Senior Level Trainer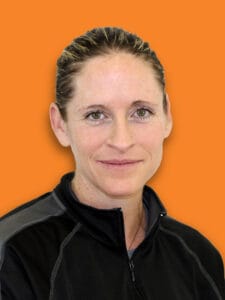 Training Philosophy
My PT programs are a comprehensive lifestyle plan. Training includes instruction in resistance training (weights, dumbbells, tubes, bands, and machines), flexibility (stretching), nutrition (eating sensibly without hopping on the diet bandwagon), cardiovascular conditioning, and functional training. You will learn proper technique and the reasons why each of these areas of fitness is important. You'll crosstrain (change activities), and we'll periodize (change how hard you work over specific time periods) your fitness training so you'll stay interested, have fun, and keep the results coming. Rather than performing a flurry of mindless activity that gets you little more than sweaty, you will get a program that provides the maximum return for the goals that you set for yourself. Although I know what I want to accomplish with your program, it would not be complete or as effective unless I also consider your thoughts, feelings, and opinions as I develop our individualized approach for you, your input is critical in helping me design an ever-changing program that can meet your fitness, health, and nutritional needs. I love what I do; helping my clients get their goals in place and executing a plan to make their physical dreams come true.
Education
BA in Sports Management- DePaul University
Certification
ACE Certified Personal Trainer
ASFA Certified
Triggerpoint Performance Therapy Foam Rolling Principles and Practices Level 1
Principles and Practices Level 1
Specialty
Youth/Teen Training
Weight Loss
Toning
Nutrition
Strength and Sport-specific Training
Other Experience
Worked for the Chicago White Sox, Oakland A's. Taken in the 43rd round as the first woman ever chosen in the Major League Baseball Amateur Draft. (1993). In the same year she was named high school basketball player of the year in the state of California and selected High School McDonalds All-American. Schueler was the California Freshman of the Year, California Sophomore of the Year, was 4X All-Area, 4X All-League, 4X All-Region, 4X All-District, and 3X League MVP in basketball. She also set the school scoring record, with over 2300 career points. Schueler began her career at DePaul University on a full-ride basketball scholarship, and finished at St. Mary's College (CA) with a Bachelors degree in Sports Management/Business.
Hometown
Lafayette, CA