We've curated exclusive offers to elevate your well-being and that of your loved ones. Embrace the spirit of the season with our exciting promotions, designed to make fitness fun and accessible. Discover the perfect gifts for a healthier and happier holiday season.
This holiday season, choose the gift of health and let our exclusive offers bring joy, wellness, and vitality to you and your loved ones. Happy holidays from our fitness family to yours!
Offers available for purchase through December 31, 2023 or while supplies last.
FREE 1-Week Family Guest Passes
Spread the joy of fitness with up to two free 1-week family guest passes. These passes are the perfect way to introduce friends and family to the benefits of a healthy lifestyle. Passes can be redeemed by non-member first-time local guests ages 18+. Grab yours from Membership before they run out! Must be redeemed by 1/31/24.
Private Pickleball Party
Imagine hosting a lively pickleball celebration for you and seven friends! Picture the excitement as you and your crew take over two pickleball courts, equipped with paddles and balls. Sip on two complimentary drinks per person while you soak in the energy of the game. Secure your 2-hour session now and let the good times roll! This unforgettable experience awaits, so make your reservation and start crafting memories. Don't miss out – redeem by 6/30/24 for a playdate like no other!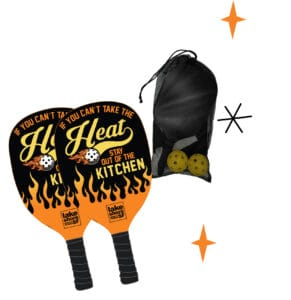 Pickleball Lesson Package
This package includes everything one would need to kickstart their pickleball journey! Master the art of pickleball with lessons from one of our certified pickleball pros. This offer includes three 60-minute private lessons, along with a paddle and ball set. Must be redeemed by 6/30/24.
Personal Training Package
Delight your loved ones with the gift of well-being! Imagine the joy on their faces as they embark on a personalized fitness journey with one of our certified personal trainers. This package also includes a fitness recovery kit to nurture their post-workout rejuvenation. Give the gift of a healthier, happier life – an investment in their well-being that they'll cherish. It's not just a package; it's a transformative experience! Must be redeemed by 6/30/24.
Golf Lesson Package
Know someone who wants to improve their swing and enhance their golf game? Work with our in-house golf pro to refine skills on the green and get ready for the next golf season! Must be redeemed by 6/30/24.
LSF Gift Cards
Give the gift of choice with our versatile gift cards. Purchase them to pay for memberships, personal training, lessons, camps, court time, and more. A perfect present for any fitness enthusiast! Buy yours today from Membership.
12 Days of Fitness Personal Training Credit Incentive
Jumpstart your fitness journey by purchasing a 12-pack of 60-minute personal training sessions in December. If you complete all 12 sessions this month, you'll receive a $100 club credit to enhance your future fitness endeavors.
Buy a 12-pack of 60-minute sessions at any level during the month of December
Earn a $100 club credit for future purchases if you complete all 12 sessions within December
Lincoln Park: Email PT360@LakeshoreSF.com to purchase
Illinois Center: Email ICPT360@LakeshoreSF.com to purchase
50% Off Open Tennis & Pickleball Court Time
Enjoy a break from the winter chill with 50% off open tennis and pickleball court time during the winter break period. Stay active and have a blast on the court while taking advantage of this exclusive discount.
Tennis or pickleball court time from December 23rd to January 5th will be half off
Book your court time through the MyLSF app using the Tennis Court Rental – Winter Break Special service
Special Events & Programs Offered Over Winter Break
We have exciting activities planned to make your holiday season even more memorable! Join us over winter break for fun programs like Camp, Shred Zone, tennis classes, sports drills, athlete clinics, TeamX training, Family Fun Nights, and more! Check out the schedule and sign up in the MyLSF app!