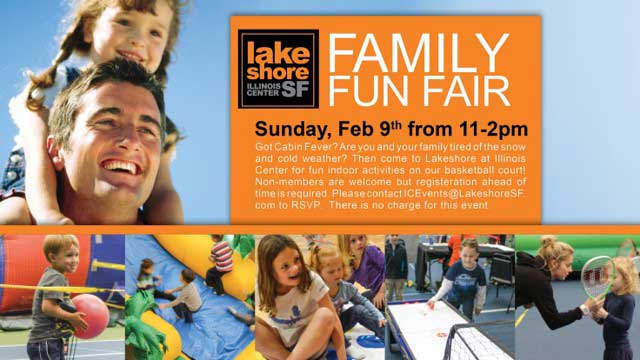 What's Happening in the Club!
Fitness for All
Family Fun
A Passion for Sport
Physical Therapy
Fitness for All
Lose to Win has begun. Still accepting registrations!
Lose to Win is back! L2W is an inspiring, motivating, social and fun 8 week weight loss challenge to help you meet your fitness/weight loss goals. Prizes for top 8 finishers both male and female and a $1000 grand prize! For more information or to sign up contact us at L2W@LakeshoreSF.com. We have extended registration through the end of this week, Sunday February 9th. If you have been thinking about joining or are looking for something different to supercharge your results, sign up now!
Per4mance Cycling & Fitmetrix Leaderboard – Live at LSF-IC!
You may have noticed that several more of our Studio Cycling classes are now Per4mance Cycling! These classes will have the Fitmetrix Leaderboards active during the class and displaying individual rider and class collective Power, RPM, Distance, and more! Register now (LakeshoreSF Fitmetrix Registration) and you'll have access to keep statistics from your favorite classes, follow the in-class leaderboards, reserve your favorite bike, participate in games & competitions, and so much more! Don't want your performance metrics being shown on the screens, you can select this option when you register!
To book your bike in your favorite class, go to the Lakeshore Sport & Fitness-Illinois Center website's cycling page (LakeshoreSF-IC Cycling Page), login to Fitmetrix, find your class and bike number, and reserve your next ride! Don't forget to bookmark the page for easy access in the future. If you have any questions or need help getting setup, please contact our Assistant General Manager at LuisD@LakeshoreSF.com .
Featured Instructor – Matt Jennings
Matt has competed in triathlons for eight years, ran two marathons, worked with and learned from world champion athletes, and have consistently qualified for National Championship races around the country. This year he is training for USA Triathlon Age Group Nationals and Ironman Louisville. His experience in coaching spans six years and includes endurance and strength training. "One of the things I enjoy most about coaching and working with athletes," Matt says, "is working together to discover breakthroughs for athletes and coaches to reach the next level of human performance to go farther, faster." Hop in a class with Matt for top level coaching to help you reach your goals!
Featured Instructor – Katie Simmons
Katie Simmons is thrilled to be joining the Lakeshore Sport & Fitness community! With over 17 years experience in the fitness industry, she's excited to bring her energy and expertise to the main studio for some fun Tabata classes and challenging muscle sculpt workouts. Outside of the gym, she runs her own business as a personal chef and food blogger, focused on healthy eating. Her personal motto is, "by doing things that make us uncomfortable, we grow, we change, we become stronger." Challenge yourself to move out of your comfort zone in a class with Katie!
REV Up Your Fitness Routine in 2020 with DJ Rev Cycling!
Don't miss this party on a bike every Thursday night with live DJ Kristina Jackson! Book in advance to secure your bike and torch calories in a mind blowing 45 minute ride that will allow you to get lost in the music during the best workout of your week! DJ Rev Cycling will have your heart pumping, legs moving and screaming for more. Increase your endurance, speed, rate of perceived exertion and UNLEASH THE ATHLETE WITHIN. Spots fill up fast so be sure to book your bike on the MyLSF app or at the front desk. Workouts are more fun with a friend! If you want to bring a guest, have a membership advisor book a bike for your guest.
Introducing the Mid-Morning Group Fitness Line Up
IC now offers weekday classes at 9:15am and 10am. We have heard the requests from neighborhood families and we are here to support you in your health and fitness needs. This time is convenient for busy parents – get your workout accomplished after the chaotic rush of school drop off with time to refresh before lunch! We also offer childcare. Meet new friends in class or bring a gym buddy to make this workout fly by and enjoy this time for you!! Moms and dads of Lakeshore East, we salute you, and we hope you will make Lakeshore Sport & Fitness Illinois Center your home away from home! Check the MyLSF app for details about our weekly class schedule and come up with your new fitness routine.
Fresh Classes on the February Schedule!
Check out the February schedule and you'll notice some exciting changes! We have made some tweaks and added new classes in early morning, mid day, evening and weekend timeslots so take a look and figure out what works best for your routine and personal goals. We always take member feedback into consideration and we are here to support you! Email GFM@LakeshoreSF.com with questions, comments and feedback about group fitness classes, instructors and schedule. Check out our entire Group Fitness lineup on our MyLSF app under Classes.
Family Fun
Cabin Fever Neighborhood Family Fun Fair at Lakeshore Sport & Fitness – Illinois Center
Are you and your family tired of the cold and snowy weather. We have the cure for Cabin Fever! Bring the whole family for fun on Sunday, February 9th from 11am-2pm to the LSF Illinois Center Family Fun Fair. Join us for a day of fun activities for the whole family. Climb into the Bounce-House or the Jousting Pit. We are setting up your favorite games on the basketball court and the children's play area with crafts and music. Free to Guests and Members. RSVP at ICevents@lakeshoresf.com
Come Play at LSF! Playdate, Crafts & Story Time every Thursday
Too cold outside to play in the park? Need a safe and warm place for your kids to play and socialize with other kids their age? Come join us via the Pedway. We are hosting neighborhood playdates in our new children's play space from 10:30am to 12pm on every Thursday for ALL MEMBERS. We will also be hosting AFTERNOON Playdates on Tuesday, February 4th & 18th, and on Saturday, February 15th & 29th from 2:30pm to 4pm. Space is limited so please RSVP to ICKids@lakeshoresf.com or call 312.856.1111
Join us for the kickoff of the LSF Academy – Basketball & Children's Aquatics!
Don't miss out on the opportunity to join these great programs. For more information, please email ICKids@lakeshoresf.com or call 312.856.1111
Parents' Night Out on February 14th!
Parents can enjoy a night out, while their child enjoys a night at Lakeshore! On February 14th from 6-9pm, Lakeshore will be hosting a Parents' Night Out event! This month's theme is Love Bugs! This event is $15 for members and $35 for non-members. Registration is required 24 hours prior. To register, get more information or ask questions, please email ICKids@lakeshoresf.com or call 312.856.1111
Sports of All Sorts on February 8th and 22nd!
Want the opportunity for your child to try out a new sport? Sports of All Sorts is the chance to meet our program instructors and experience a new sport for an afternoon. Every other Saturday we will showcase a different sport. Our first Sports of All Sorts will be showcasing our Children's Aquatics program on February 8th, from 2pm to 3:30pm. Our second Sports of All Sorts will be showcasing our upcoming Soccer program on February 22nd, from 2pm to 3:30pm. Don't miss out on the opportunity to experience different sports for an afternoon. In order to guarantee your spot RSVP 24 hours in advance to ICKids@lakeshoresf.com or call 312.856.1111
A Passion for Sport
packages available, as well. For more information, or to book your next event,
Pickleball Open Play begins February
Join us for Pickleball on our regulation-size Pickleball Courts located on the basketball court. Thursday's in February from 12:30pm-3pm, open play begins with all levels welcome. Sunday's from 3:00 – 6pm open play is also scheduled.
Your host, Kevin Cunningham is available to help match players and get everyone together. Lakeshore Pickleball members are free and it is $20 for guests. Pre-registration is required with credit card payment for guests. Space is limited. To register, call 312-856-1111 or email us at ICEvents@LakeshoreSF.com .
Pickleball Learn, Play, Sweat & Party Event, February 28th!
Time for some Pickleball after a long week. Join us Friday, February 28th 5 – 8pm. Experience the fastest growing sport in the United States. Open play, exhibitions, drinks and snacks – Play the game with the Pro, Kevin Cummings, PPR Certified Pickleball Professional. Shake off the office rust! Lakeshore Pickleball Members – $10 – Guests – $40. Pre-registration is required with credit card payment for guests. To register, call 312-856-1111. Or email Bob Good at ICevents@lakeshoresf.com.
LSF Winter 2020 Instructional Indoor Golf League – Still Accepting Teams
Join other members and their guests for a combination of friendly competition and instruction on our HD Golf Simulator. Patrick Honan, Lakeshore's Director of Instruction is your host for this innovative program. League play includes one lesson per team. Matches start February 10th for Beginner and Intermediate levels. Fees are $120 for VIP & Executive members, $160 for Standard members and $195 for Non-Members. Space is limited, email us at ICGolf@LakeshoreSF.com to register or register online on the MyLSF app.
Introduction to Golf for Women Group Package – Opening still available.
Learn how to play the popular game of golf in a fun, no-pressure environment in a small class setting. Join our Director of Golf Instruction, Patrick Honan, for a five-week session of group lessons. Prepare for the corporate golf outing or the girls' day out on the course. Session begins February 10th. 4 different classes are offered. Monday and Wednesday from 12pm-1pm and Tuesday and Thursday from 5:30pm-6:30pm. Members – $275 and Non-Members – $375. Join with a friend, save 10% off each registration. Space is limited! Email ICGolf@LakeshoreSF.com to sign up.
Complimentary Swing Evaluation
Patrick Honan, our Director of Golf Instruction is your host for an informal evening to help perfect your golf swing fundamentals. He will use our HD Golf Simulator in the Press Kitchen lounge. This is a perfect chance to prepare for the 2020 golf season and your company golf outing. Times are: 11am – 1pm, Saturday, Feb 8th, Sunday, Feb. 9th 5:30 – 7pm, Tuesday, Feb. 11th and Thursday, Feb. 13th. Email ICgolf@lakeshoresf.com to sign up.
Children's Group Climbing Classes: now in session
Have your children learn a very unique and challenging activity. It is also one of the most complete and safest forms of exercise you can find. Our program promotes a social activity that can also be mentally challenging. Enroll your child or children in our Children's Group Climbing Classes. Sunday's 11 AM to 1:00 PM. Class packages are six weeks, Ages: 6 – 14 years old. LSF Family Member Price: $129, Non-Member Price: $189. Receive a 10% discount with more than one child enrolled. Classes include: Rental equipment (harness and shoes) – Instruction, members receive additional climb-time after the class if wall space permits. Class-size is limited to six students. Parents must be in the club. Contact Bob Good at bobg@lakeshoresf.com to enroll.
Physical Therapy
Nervous About Flexibility?
Do you stretch frequently and still seem to feel tight? Are you concerned you can't touch your toes or can't get your pecs to loosen up? Sure your muscles may be tight, but your nerves can also be tight, which can limit your range of motion and flexibility. Nerve tension can mimic muscle tension, but is treated a bit differently. We stretch muscles when they're tight, but when there's nerve involvement, we incorporate "neurodynamics" into a treatment program. Neurodynamics is "the study of the mechanics and physiology of the nervous system". Check out our latest blog to get a little better insight as to what nerve tension is and what are its causes!
Tags:
climbing
,
Golf
,
golf swing
,
group fitness
,
Kids
,
Physical Therapy
,
pickleball
,
yoga