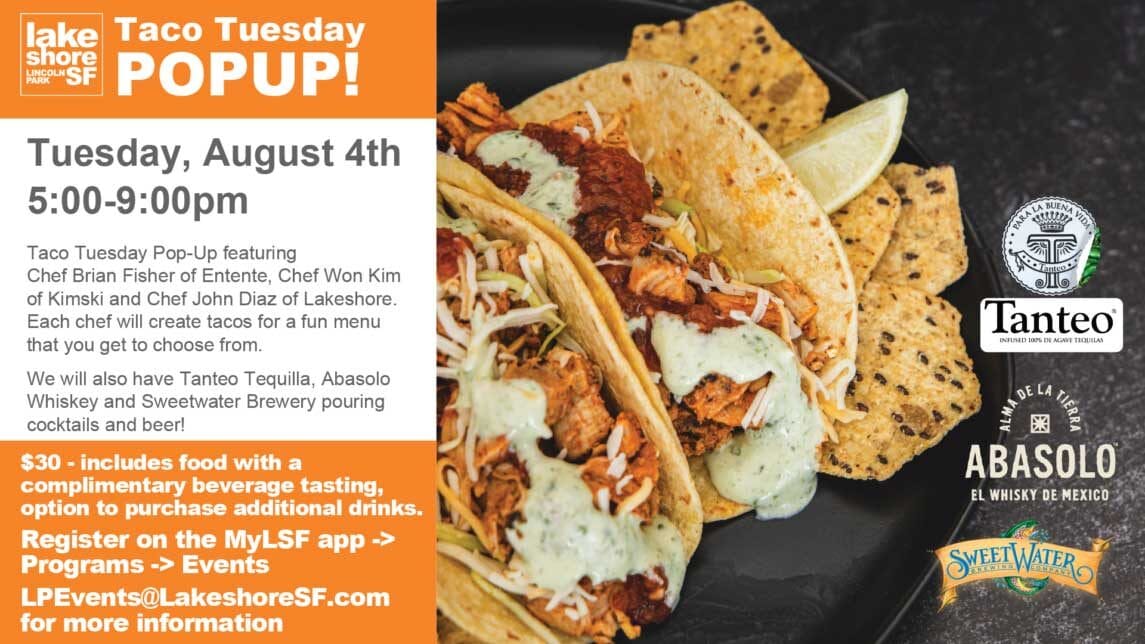 Club Happenings
Summer is NOT Canceled! We Repeat….Summer is NOT Cancelled!
Just because we have new limitations and guidelines for public health, does not mean we can't still have fun this summer — we just have to do it a little differently! So, join us for all sorts of fun activities for adults and kids alike. Our upcoming events include an Amazing Race family scavenger hunt on Saturday, a kids' Saturday Playdate, Ben's Bubble Show on Sunday, a Rooftop Family Campout, and a Taco Tuesday Pop Up event, featuring guest chefs! All members are welcome to attend events at either Lakeshore Sport & Fitness location. To check the upcoming events and to register, go to the MyLSF app > Programs > Events or MyLSF app > Programs > Children's Programs > Special Events.
1320 Market Now Open
1320 Market is now open for Smoothies, Drinks, and Grab and Go. Get more convenience pre- or post-workout!
Childcare Now OPEN!
Childcare services are available Monday-Sunday from 8:00am-12:00pm and starting July 27th, will be open from 8:00am-4:30pm Monday-Friday. Childcare services require a reservation, which can be made on the My LSF app under Bookings – Childcare. Reservations are limited to a 1.5-hour slot. Masks are required for those 5 and over, but are not required for those 4 and under, per Chicago childcare guidelines. Our team will greet kids at the check-in counter to take a temperature check. As toys are used, they will be removed from the play space and sanitized.
LSF is Members Only This Summer – Don't Forget About our Amazing Referral Program
In an effort to ensure we are able to give the best member experience possible given the guidelines in Phase 4, we are currently members only. We are welcoming new members, however, and remember, for everyone you refer that joins, you receive $10 off of your monthly membership for the life of their membership.
Interested in Checking out all the Great New Changes?
Even if you have been a member for years, there may be some questions or curiosity as to how our operations are running. We are happy to give you a tour and go over all of the protocols and workout spaces with you. We will explain the safety measures taken in each area for your safety. We have tried to design a safe and comfortable space for everyone. Please email Membership@LakeshoreSF.com to schedule a tour. We are here when you are ready!
Programs
Tennis Summer Session II begins Monday, August 10th!
Both Junior and Adult Programming is now available on the MyLSF app! We're offering Junior Tennis beginning at 3 years old and up! For adults, we offer Intro through 5.0 competitive play. Check out Summer Session group classes by going to MyLSF app > Programs > Tennis. For private, semi-private, and private group information or to have a rating to determine your level of play, email LPRacquet@LakeshoreSF.com.
Outdoor Kids' Classes – Included with Your Membership!
These class times match some of our most popular group fitness classes and are available to book on the My LSF App under Classes. Outdoor kids' classes are included in your LSF family membership. If you have any questions regarding these classes, please email KidEvents@LakeshoreSF.com. Ages 3-10.
Hello PeeWee's!
PeeWee Camp runs Monday-Friday from 9:00am-12:30pm and is for kids ages 2-4 years old. In compliance with the governmental requirements, all groups will maintain 10 or fewer campers. Our team of PeeWee teachers will remain with the same group weekly. Weekly registration is required of all PeeWee campers to ensure we maintain this safety measure. Our team will greet PeeWee campers at the door to take a temperature check. Masks are not required for those 4 and under, per Chicago childcare guidelines. Chicago camp guidelines prohibit water activities in Phase 4, so we will not include swimming this season. The weekly cost for LSF members is $295. If you have any questions regarding our PeeWee Camp program, please email us at PeeWee@LakeshoreSF.com.
Camp Lakeshore – The Place to Be This Summer!
We have launched our same great camp programs, including weekly themes, dress-up days, opening & closing ceremonies, craft activities, science, music, sports, great food options, and more! We are excited to offer traditional day camps and tennis camps as well as a half-day camp option. We have a huge outdoor area to utilize for camp programming and will also use area outdoor parks. Most activities will take place outdoors, but we will have specific indoor spaces reserved for a break from the weather. To see more details regarding our camp operations or if you have any questions regarding our summer camps, please email LPCamp@LakeshoreSF.com.
Aquatics Private Lessons
Whether you are looking to make sure your child is safe at the pool or lake this summer or are looking for more instruction on stroke development, LSF is back in the water, safely, with your swimmer this summer! Email LPAquatics@LakeshoreSF.com to book a private lesson!
Club 48 – Exclusive for 4th-8th Graders – Included with Your Membership!
This program is for LSF members entering 4th-9th grade in the fall. A variety of classes will be available Monday-Friday from 3:00-6:00pm and on weekends from 12:00-5:00pm. Each class requires a reservation, which can be made on the My LSF app under Classes. If you have any questions regarding our Club 48 program, please email KidEvents@LakeshoreSF.com.
Triple Play Sports Program for 10-16 Year Olds
LSF has launched a new group fitness play-based program for kids ages 10-16 years old. This program includes one hour of group tennis play, one hour of basketball play, 30 minutes of free swim in the pool, and a snack. Triple Play runs 1:00-4:00pm and is available Monday-Friday. The cost is $60 per day per child. Participants can register for as few or as many days as you would like! Each class has a maximum capacity of 6 kids and can be booked on the My LSF App under Classes. Please email us at KidEvents@LakeshoreSF.com with any questions!

LSF School
We Have Solutions for Parents Struggling with Remote Schooling!
While we are still unclear about what the official school week or day will look like, we know that we will offer a program that meets all of your needs, including full-day coverage, instructional time with access to great WiFi to follow online classes, tutoring services, structured play, lunch and snack service, and, of course, safety!
Currently, we are gathering interest in such a program and starting to collaborate with parents to develop the optimal offering. If you are interested, please fill out this form. We will work with those interested to ensure they have a spot and to craft the program to meet all of their needs.
We have a great staff with a variety of skills and degrees that can help ensure your child progresses and has a good time! These team members are experienced with managing safety protocols and fun for our kids during our summer camp. We also are actively recruiting skilled school instructors to enhance our curricular offerings. If you know someone who might be interested in helping teach for us, kindly ask them to email KidEvents@LakeshoreSF.com.
LSF Virtual Studio
We've Launched a Virtual Studio – Enjoy LSF Classes from Home!
Want to enjoy classes from your favorite LSF instructors any time, anywhere? We now offer on-demand virtual classes to keep you moving towards your fitness goals. Our Virtual Studio consists of a constantly expanding library of recorded classes to keep you motivated and on track — including HIIT (high-intensity interval training), yoga, strength, and cardio workouts. For a limited time, this offering is INCLUDED with your LSF membership!