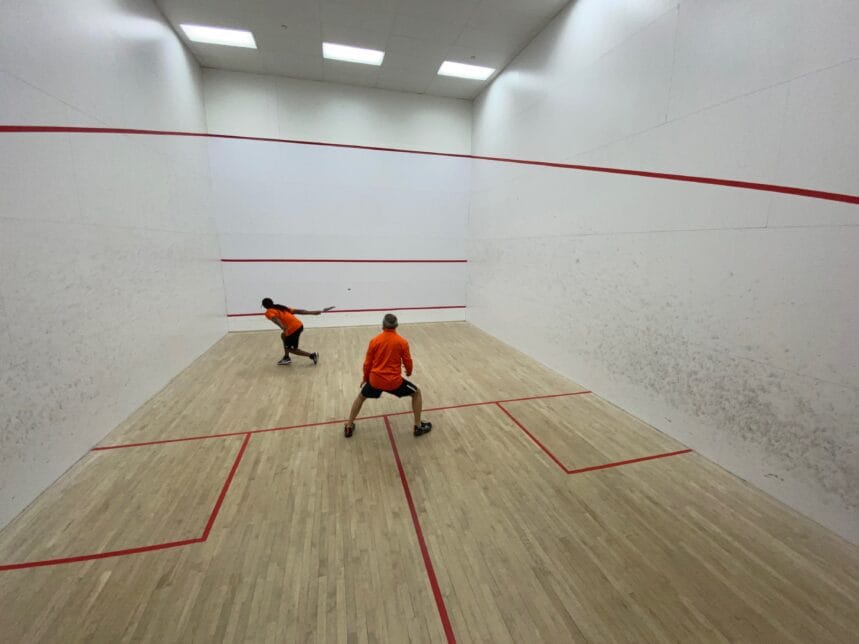 Looking for a place to play squash in Chicago? Lakeshore Sport & Fitness offers programs and match play opportunities for players of all skill levels. Take a lesson, attend a mixer, or book a court to play with your fellow members! Learn more about our Chicago squash programs.
What is Squash?
Squash is a racquet sport played on a four-walled court with a small, hollow rubber ball. It can be played with 2 players (singles) or 4 players (doubles). The players alternate striking the ball with their racquets against the playable surfaces of the walls. The objective of the game, much like tennis, is to play the ball in a way where your opponent is unable to make a valid return.
Points are scored when the server wins the rally. If the non-serving side wins the rally, they will then serve. Serving is done from designated boxes on either side of the court. After the serve, players take turns hitting the ball against the front wall above the tin and below the out line. The ball may bounce on the floor once and any number of times against the side or back walls after it has hit the front wall before a player must return it. Players can move around anywhere on the court just as long they don't obstruct their opponent.
For a more detailed explanation on the Rules of Squash, visit the US Squash website or talk to our Squash Pros at Lakeshore Sport & Fitness! You can email them at ICSquash@LakeshoreSF.com to learn more.
Why Play Squash?
Squash is not only fun, but it is excellent form of exercise! Squash demands a lot of movement and agility, as well as strategy and concentration. You will definitely get your heart pumping with constant movement and direction changes chasing your opponent's next shot.
Don't forget about the social component as well! It's easy to make friends in the squash community. You'll have plenty of opportunities to meet other players through regular match play, taking lessons, or by attending squash mixers.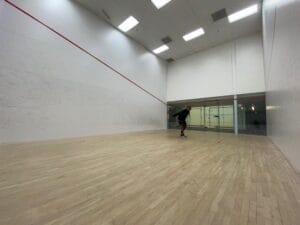 Play Squash in Downtown Chicago
Our Illinois Center facility offers members a chance to hone their skills, learn some finesse, and exercise their minds as well as their bodies through our Downtown Chicago Squash programs.
Whether you are a seasoned player or new to the sport, our five squash courts are a great place to learn and refine your game. Compete and socialize while improving your game at our weekly round-robin mixers, schedule your own private games through our online scheduling portal or reserve the courts for your own private functions. In addition, we offer private, semi-private, and group lessons and camps for beginners and seasoned players looking to hone their skills.
Squash Lessons
Private, semi-private, and group lessons for beginners to advanced players, tailored to develop basic techniques, or to improve and strengthen specific aspects of the game: Racquet control, straight and cross-court drives, boasts, volleys, lobs, drop-shots, and serves. Court movement, defensive and offensive strategies, solo practice, and fitness routines are also addressed.
Drill Groups
Small group, early morning, and lunchtime sessions availing for two or three players to develop and improve quality stoke production, court movement, and aerobic fitness.
Open Squash Challenge
Round-robin format, with helpful tips, discussions, and feedback from the pro to improve your game.
Free Squash Skill Assessment
One free half-hour squash skill assessment for new members, or members wishing to take up and learn this exciting game.
Learn More About Our Squash Programs
Tags:
chicago squash
,
Squash
,
squash courts chicago
,
squash lessons chicago