Welcome to the best place for personal training in Chicago! Our team of experienced personal trainers is dedicated to helping you achieve your fitness goals and transform your life.
Traditional personal training usually just estimates your overall fitness and then have you lift weights. PT360 personal training is anything but traditional.
Our PT360 trainers perform an in-depth health assessment, using both functional movement screening and Inbody 370 body composition analysis, to create the most accurate portrayal possible of your fitness level. Using that precise information and drawing on their extensive education, our experienced trainers design a unique fitness plan devoted to helping you achieve long-term wellness. By using their knowledge of physical therapy techniques and training methods and drawing from their extensive educational backgrounds, our trainers help you achieve your own fitness goals while overcoming any physical and life obstacles.
The results are not only a fitter body but a healthier way of living your life away from the training room.
Personal Trainers in Chicago
LSF employs the finest personal training staff, who are all nationally certified, committed to furthering their own education on a routine basis, and staying at the forefront of their field. When it comes to finding the best personal trainer in Chicago, look no further than our team. We pride ourselves on our commitment to excellence and our dedication to helping you achieve your fitness goals. Our trainers will work with you to develop a personalized plan that fits your lifestyle and schedule, and will provide the guidance and motivation you need to stay on track.
Female Personal Trainers in Chicago
Looking for a female personal trainer in Chicago? Look no further! We have some of the best female trainers in the city, ready to guide and support you every step of the way. We understand the unique challenges that women face when it comes to fitness, and our female trainers have the knowledge and expertise to help you overcome them.
Fitness Memberships Now Available!
As one of the personal training gyms in Chicago, LSF is fully equipped with everything you need to get the most out of your workouts. Our facilities are clean, safe, and welcoming, with a supportive community of trainers and fellow fitness enthusiasts.
Interested in jump-starting your fitness in the new year? Sign up for one of our fitness memberships! Choose the membership that works best for you:
1:1 Personal Training Membership: $699 per month with up to 12 personal training sessions. Some restrictions apply.
TeamX Small Group Training Membership: $249 per month with unlimited access to our TeamX Small Group Training classes.
Contact ICPT360@LakeshoreSF.com to get started.
TeamX Small Group Training
4 Small Group Training Classes to Choose From! Drop into one or mix and match all of the formats with up to 12 classes per week!
EVOLVE
Become part of our EVOLUTION. EVOLVE is a progressive, results-based small group training program. In each class you'll improve your cardiovascular health, build muscular strength, and target fat loss by using functional movement.
STRETCH & MOBILITY
Improve your flexibility and increase your range of motion in this 30-minute stretch and mobility class. Trainers will guide you through active and static stretches, provide gentle assisted stretching, and guide you through self-myofascial release. This small group training is perfect after an intense workout or as part of your recovery day.
SYNERGY
30 minutes is all you need for this all-levels HIIT class. Synergy is designed to bring out your inner athlete with cardio and strength intervals. This class gets progressively more challenging each week — are you up for the challenge?
TreadX
Not your typical treadmill workout! TreadX focuses on cross-training cardio and strength drills using the treadmills and indoor track. TreadX is designed to learn and develop cardio and muscular endurance for all levels.
Member Price: $30 Drop-In, $200 10-Pack, or $149 Monthly Unlimited
View the schedule and sign up on the MyLSF App > Classes or contact ICPT360@LakeshoreSF.com for more information.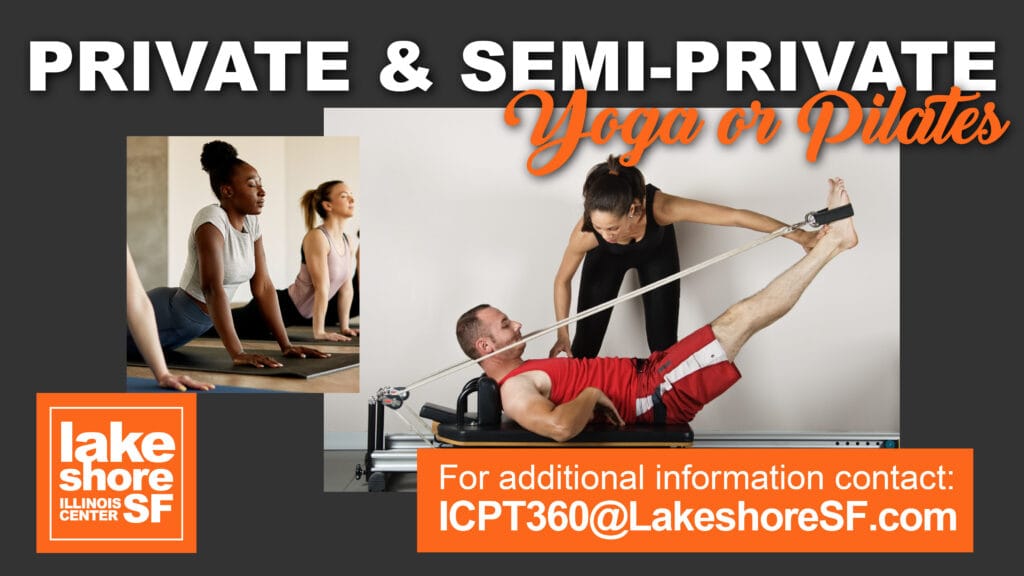 Private or Semi-Private Yoga or Pilates Training
PRIVATE YOGA TRAINING
Provides the benefits of advancing your mind & body through the traditional Vinyasa and Ashtanga practices. "Namaste".
PRIVATE PILATES COMPREHENSIVES
Improve posture and alignment utilizing a series of movements with all Pilates apparatuses (including reformer).
For additional information contact ICPT360@LakeshoreSF.com.