We're excited to welcome you back to the club! We have been researching all that we can do to keep you safe: we have consulted with doctors, hospital maintenance companies, and commercial cleaning experts to create great solutions to ensure a safe and healthy space for our members and team members. While we have great procedures in place currently based on CDC and local guidelines, please understand this will continue to evolve and adapt over time as we progress through each phase of reopening — we welcome your feedback throughout this process so we can continue to make improvements.
We will continue to update this webpage as more information becomes available, so please check back often.
Please complete the Health Acknowledgment Waiver Form before returning to the club:
Sign up for our Email List:
---
What you should know before coming to the club:
We plan to provide as normal of an experience as we can while still respecting and following the rules that are important for keeping us safe.
Mask & Vaccine Update
Thank you all for continuing to stand strong with us during the pandemic. We understand that the evolution of mandates, guidelines, requirements, and rules has been ever-changing and we truly appreciate all of our team members' and members' efforts to work together to get to the other side of the pandemic.
With that said, as of Monday, February 28th, 2022, the City of Chicago and the State of Illinois announced that they will be removing the mask and vaccine requirement mandate for some types of business including gyms. We will be following this decision as a business.
While this may be great news for many, there are still people that are not quite comfortable going mask free. We encourage anyone that feels more comfortable wearing a mask to still do so. Please respect each other's decisions through this next transition.
Additionally, since we have had the vaccine mandate in place since January 2022 and had polled our members well before that, most people coming to LSF are fully vaccinated, including a large majority of eligible children.
Although we highly recommend that anyone that is unvaccinated, specifically children ages 2-4 wear a mask, it will not be a requirement beginning, Monday, February 28th. Our staff in childcare may also continue masking while we work to understand everyone's comfort level.
We understand that there are a lot of opinions in all directions, and we would love to hear them so that we can continue to make decisions that are in the best interest of everyone. We kindly ask that you do not engage our staff with this feedback, but rather send it to our leadership team at MemberServices@LakeshoreSF.com.
Reservations
Because our buildings are so large, any reduced occupancy mandates will have virtually no impact on your experience in the clubs. We have closely monitored utilization over the past few months, and even with all the group fitness programming, we have not gotten close to the building capacity limits.
There is a $15 late cancellation fee if canceling within 24 hours for any club services or reservation and a $20 fee for no-shows. Please be sure to cancel any reservations you have booked 24 hours in advance. If you are unable to do so, please email MemberServices@LakeshoreSF.com.
If you feel a particular area is crowded, there are other areas in the club that have similar equipment and are less crowded. Feel free to contact us at MemberServices@LakeshoreSF.com for suggestions on how best to take advantage of our facilities, for a tour of other spaces, or suggestions on optimal times to come to the club and achieve your goals.
Exercise Classes
We will be offering classes indoors as well as outdoor options. Check the MyLSF App for which classes are indoors and which are outdoors. Indoor classes may have limited capacity. We will be utilizing our studios all equipped with HEPA air scrubbers.
For the most up-to-date schedule, please check the MyLSF App > Classes. Click on the class to see the location. For additional questions or suggestions, contact GroupFitness@LakeshoreSF.com.
We have also launched even more virtual group fitness class offerings. For more information check out our Virtual Studio webpage.
Other Policies & Protections for Your Safety
The locker rooms are available for use including showering and changing areas. The steam, whirlpool, and sauna are open by reservation only to ensure social distancing—you may sign up for a 15-minute reservation in each of these spaces via the MyLSF app > Bookings, and for a maximum of 2 people.
As of right now, it is a bit unclear if we are allowed to have more than one swimmer per lane, which predominantly applies for the Masters and Stingrays Swim Teams. For the immediate time being, we will be maintaining the current procedures of the pools, including one swimmer per lane. Reservations can be made on the MyLSF App. We will send an update if there is an announcement of a change here.
We have spaced out cardio equipment to allow for 6 feet between pieces and/or are separated by dividers, along with private workout pods for personal use with a reservation.
Group sports have started back up in Chicago! Our Basketball Court is now open for up to 5v5 games.
For more information on our restaurants, click here.
As those of you who have visited the clubs know, we have a great group of team members who will be sanitizing all equipment and surfaces, and there are also wipes and hand sanitizer readily available.
Because we want to make sure that our members are able to take advantage of our amenities, we are not allowing guests to use the clubs at this point in time. It is very easy to join though, we do not require long-term contracts, and you get $10 off of your dues every month that your friends are dues-paying members, so this is a great time to get your friends to join so you can enjoy the club together! For more information about membership options, please contact Membership@LakeshoreSF.com for Lincoln Park and ICMembership@LakeshoreSF.com for Illinois Center.
If you are particularly nervous about returning to the club, we have a few recommendations to help ease you back into your club usage.
Club usage overall has been slower – counter to what you might think, getting back to the club sooner will make you feel more comfortable because of how few people are around right now.
We recommend coming earlier in the day: generally, there is less traffic with more focused activity and less "hanging around."
We truly believe that space is the new safe and at LSF we have plenty of it! You do not have to work out in a busy space and can instead choose a less popular area of the club including any unprogrammed fitness studio or take advantage of our outdoor areas to complete your workouts.
---
How We're Keeping Members Safe
As part of our work in founding and leading the Illinois Fitness Alliance, we have been involved with the governor's office in helping them understand how we can keep people safe in our facilities. As a result, the government orders recognize the importance of working out – and the importance that health clubs play in enabling people to take care of themselves – by only imposing a few restrictions which we cover above.
As the Chicago Medical Society, one of the nation's oldest associations of medical doctors, recently wrote, working out in health clubs is essential to staying healthy. According to Dr. Tariq H. Butt, President of the Chicago Medical Society:
"Data demonstrates that health clubs are safe environments right now, which is important because prioritizing health and fitness is more essential than ever. We believe that the responsibility is equally shared between the facility and its members to ensure a safe environment. Our physicians and licensed healthcare professionals would not enter an environment that they felt was unsafe and we feel that it is critical to allow them the opportunity to get back into a regular fitness routine, offering innumerable benefits to both their physical and mental health, especially as we enter the winter months."
We know the benefits of exercise are real to reduce comorbidities of Covid, to keep you and your families sane during these restrictions, and to decrease your levels of stress and increase your happiness and immune response – especially as the days get shorter and colder! Please keep taking care of yourself! We will continue to offer programming that meets all requirements of the CDC, State of Illinois, and City of Chicago requirements – and most importantly that keeps you feeling safe!
Research has shown that gyms pose no additional risk to members for catching COVID-19
A large-scale academic study has concluded that there is "no threat of increased COVID-19 spread" at fitness facilities, even when intensive training takes place.
A team of researchers at the University of Oslo, led by professor Michael Bretthauer, investigated SARS-CoV-2 transmission (the virus responsible for COVID-19) – and whether it was attributable to gyms.
"Our trial showed no virus transmission or increase in COVID-19 disease that was related to the opening of gym facilities," said Bretthauer.
We're all about sanitizing, sanitizing, and more sanitizing — thoroughly and frequently!
Space is the new safe, and we've got plenty of it!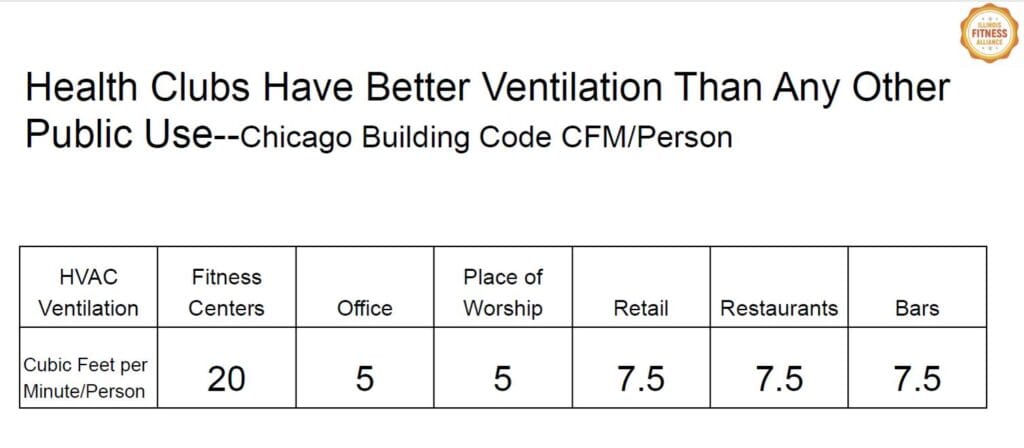 Ventilation & Air Purification Standards
City code requires gyms to have 4x the ventilation standards versus office centers or places of worship and almost 3x that of retail locations, restaurants, and bars.
We have gone one step further with MERV-13 as our filter standard – one level below HEPA which is the gold standard for hospitals. And we have or are adding free-standing HEP Air Filter systems (the green machines that you see around), which is ABOVE AND BEYOND our existing system.
Our clubs are doing all the right stuff to make sure we have amazing air quality for our members and team members. If you feel safe going out anywhere, it should be to LSF!
---
MyLSF App & Reservations
Reservations for entry to the club, programs, classes, and events can be made via the MyLSF App. If you do not have the MyLSF app, you can download it from your app store (Apple, Android). You will need to change the drop-down as it asks for your account number (which is not the number on your key fob) or select from the drop-down Membership Card and use your fob number.
You must register ahead of time for group fitness classes. If a group fitness class is under-subscribed, it will be canceled 12 hours ahead of time. If an outdoor class needs to be canceled because of the weather, you will receive a cancellation email. If you want to cancel any reservation, you must cancel 24 hours ahead of time or you will be charged.
---
Physically Distant, Socially Together
Just because we have new limitations and guidelines for public health, doesn't mean we can't still have fun together at the club — we just have to do it a little differently! So, join us for all sorts of fun activities for adults and kids alike. You and your family can look forward to wine & beer tastings, tournaments, live music rooftop events, and much, much more! All members are welcome to attend events at either Lakeshore Sport & Fitness location.
Sign up for the LSF – Illinois Center email newsletter to stay "in the loop!"
Sign up for the LSF – Lincoln Park email newsletter to stay "in the loop!"
---