Experience the thrill of climbing North America's tallest indoor rock climbing wall, which towers ten stories over our Illinois Center atrium. You will need all of the strength and endurance you can muster, as well as your problem-solving skills, as you make your way up the face of this indoor rock climbing wall. This challenging and rewarding workout will surely excite you as you achieve your goals, one handhold at a time.
Whether you are new to the sport or an experienced climber, the LSF indoor rock climbing wall offers members a great challenge and an excellent workout. Our talented and knowledgeable climbing instructors are on hand to show you the ropes or to give you some pointers.
Climbers are required to use LSF's grigris and ropes but may bring their own shoes and harnesses, provided they pass a safety inspection by the LSF instructors. Novice climbers may rent shoes and harnesses as well.
Monday – 5:00 PM to 9:00 PM
Tuesday – 5:00 PM to 9:00 PM
Wednesday – 5:00 PM to 9:00 PM
Thursday – 5:00 PM to 9:00 PM
Friday – 5:00 PM to 9:00 PM
Saturday – 11:00 AM to 2:00 PM
Sunday – 11:00 AM to 2:00 PM
Our climbing wall is also available for rent, making it an exciting venue for a birthday party, corporate outing or other function. For more information, contact us.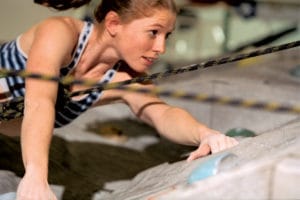 Orientation
All members, regardless of skill level, must go through an LSF Climbing Wall Orientation with one of our climbing instructors on their first visit prior to using the wall. The Orientation lasts about an hour and the necessary equipment is supplied as part of the cost. We also offer kid's orientation for 10 years or older on weekends after Noon.
Belay Check
Experienced climbers 18 and older may qualify for a belay check if they are able to show competency with the equipment and safety regulations. Belay check does not include harness or shoes and requires a nominal fee.