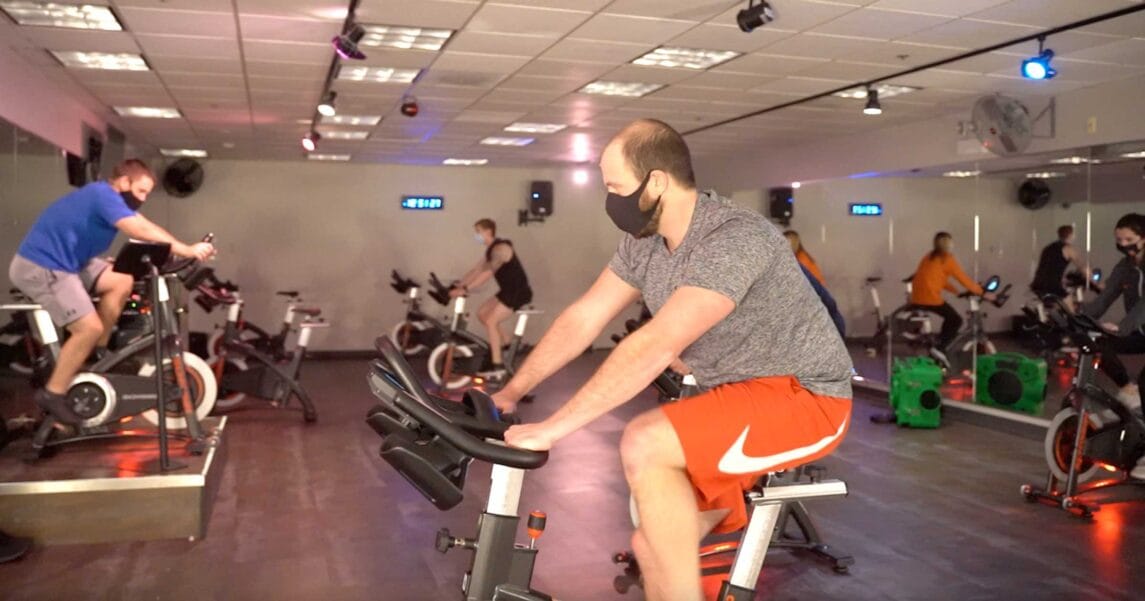 Are you trying to get in shape before summer rolls around? One of the best ways to lose weight and get in shape is by doing group fitness classes. If you don't have your own plan, having fitness professionals leading you through a workout could be a great option. Many people prefer group fitness classes because they can be fun and motivational. Lakeshore Sport & Fitness offers a variety of Chicago exercise classes, and with warm weather upon us, you can burn those calories in one of our rooftop classes we offer as well. The following are some of the best group fitness classes to consider when trying to lose weight.
Spin/Cycling Class
A spin class will lead you through a variety of different types of races. You will do uphill, long distance, and sprints on the bicycle in hopes that by the end of the class you will be dripping sweat. Spin classes will also help to strengthen your hip muscles, hamstrings, glutes and quads. By strengthening these muscles, it makes it easier for your body to burn fat. You will also be increasing the human growth hormone levels which will help to create lean muscle. The consistent sprint-to-rest intervals will increase your metabolism so you will continue to burn fat throughout the day. When the weather is nice, Lakeshore Sport & Fitness has an option to take Cycling classes on their rooftop.
Barre Body Class
If you are looking to tone your whole body, this is the class you should try. It is inspired by dancer-type training while using a body bar for stabilization, balance, and leg work. This fitness class will use light weights along with bodyweight movements to help sculpt your muscles to be long, lean, and toned. This class will be sure to help you get on your way to losing weight and looking lean for the summer months.
HIIT Class
High intensity interval training classes are very effective for weight loss. These types of classes are cardiovascular endurance-based with short periods of anaerobic training combined with less intense recovery periods. Your endurance improves the more you perform HIIT workouts, allowing you to become stronger and faster. HIIT fitness classes will make you burn a ton of calories during the class and like other classes, it will improve your metabolism so you will continue to burn calories after completing the class. LSF offers a variety of HIIT classes including one called the META circuit. This class is designed to take your fitness abilities to the next level so if you are looking to challenge your strength and endurance levels, that class is the one to try.
Yoga Sculpt
This fitness class will consist of a full body workout. It is based off of Vinyasa Flow yoga postures and sequences but the class adds more intensity by incorporating weights and cardio intervals which will help to maximize results. This class will get your heart rate up with keeping a fast paced and high energy level environment every time. If you already enjoy doing yoga but want to start to lose more weight, try this class out and you'll be sure to see results.
Conditioning Class
Building up strength and improving your endurance will benefit you on your journey to losing weight. Conditioning classes will focus on both of those within one class or have classes specific to strengthening certain muscle groups. At LSF, we offer a variety of conditioning classes. Whether you are looking to focus on upper body, lower body, or a full body workout, you will be sure to find one that fits what you are looking for.
Chicago Exercise Classes
For more information and full schedules of our Chicago exercise classes, check out our website for our Lincoln Park and Illinois Center locations!
Tags:
Chicago exercise classes
,
exercise classes
,
group fitness
,
group fitness classes