LSF offers multiple event venues & space rental options in downtown Chicago to create memorable events and our culinary experts will ensure you have the perfect food and beverage to complete the experience! Our ability to provide a variety of unique event types will have you looking no further to book your next event! Many of our unique spaces are available for rent, including the rooftop, Press Kitchen lounge, conference room, basketball court, climbing wall, and pool. We pride ourselves on our flexibility and would be more than happy to work with you to customize your event.
Have your next event with us! Contact ICevents@LakeshoreSF.com to get more information or book your private event.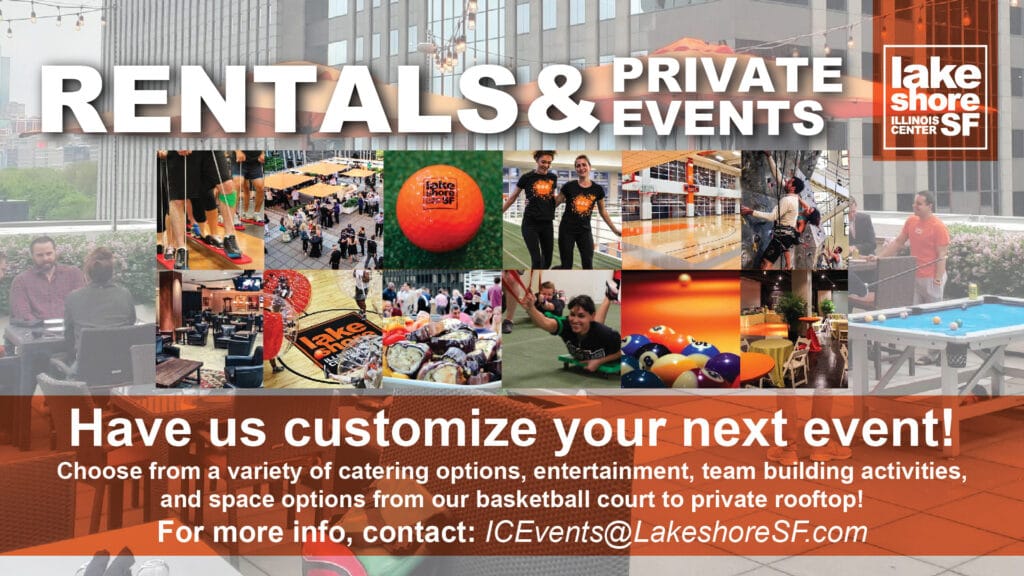 CORPORATE TEAM BUILDING
Custom build your next team-building event with our exciting and unique offerings. LSF has exceptional space and staff talent to create memorable team bonding experiences. Your group will divide into teams to participate in a series of fun activities. Each event can be paired with food & beverage from our in-house catering team.
BAR MITZVAHS
We offer the perfect space for Bar Mitzvahs of all sizes. Adults get to enjoy a cocktail hour while overlooking the Bar Mitzvah sports/activities on our Basketball Court. A variety of sports and activities can be offered and customized for this special event!
ROCK CLIMBING EVENTS
Book the tallest indoor climbing wall in the U.S. for your next outing and you will have exclusive access to the wall, climbing staff to train your participants, and supervision to ensure everyone's safety and fun. During your event, your team will first learn how to safely harness up and climb the wall. Then participants will have the opportunity to climb-challenge your team to see who can go the highest, or for the advanced, who can get to the top the fastest! Just as some of your team runs out of energy, we will provide libations and food. Great for groups who want to challenge themselves, break down barriers. Perfect for corporate team outings and birthday parties!
COOKING EXPERIENCES
Whether your team is looking to learn healthy food preparation techniques, develop cooking skills or just have a fun alternative to the typical outing, LSF's kitchen is the perfect place. Your team can also participate in cooking challenges such as Iron Chef. We will get things prepped and handle the clean-up, so your team can have all the fun. A cooking experience can be paired with other events to provide a fun alternative for those who are not comfortable with a more physical event. These experiences are best for small groups of 15 or fewer people, but we can customize and accommodate larger groups.
ROOFTOP EVENTS
LSF's rooftop can set the stage for any party or event. Touting breathtaking 360-degree panoramic views of Downtown Chicago, LSF's rooftop offers a chic retreat from the busy day. Enjoy the sun or gentle breeze amongst the surrounding skyscrapers while lounging around the rooftop pool, playing pool, golf, or just hanging out. Customize your experience with an unparalleled food and beverage selection. Great for groups of all sizes to socialize in a unique setting. The rooftop space is great for private and corporate events.
PRESS KITCHEN & GOLF OUTING
Enjoy our state-of-the-art golf simulator and Press Kitchen Lounge for groups of 20-125. Our event concierge will lead your group through different skill challenges and games for all ability levels. When not on the green, you will have access to our billiards table, HDTVs, and bar/lounge area. Choose your food and beverage from our catering menu to complete the experience. Our lounge is the perfect space for your next happy hour, golf outing, holiday party, etc!
CONFERENCE ROOMS
LSF offers two unique meeting spaces to host your next team meeting. Our conference room can accommodate groups of up to 75 people. Present with impact using our projection screen and available conference phone. Food and beverage can be added to round out your experience.
FAMILY EVENTS
Come take advantage of our versatile spaces for private Family Fun Fairs and picnics! We offer you the opportunity for valuable family bonding during your next corporate picnic. We understand the importance of family time and offering company's the opportunity to celebrate and host outings with the entire family present. LSF houses a giant 45-foot inflatable slide and bounce house which are both wildly popular for the little ones. The range of events and activities is only limited by your imagination. Boxed lunches, pizzas, or more robust food and beverage can be added to your event. Typically, these events can be scheduled after 12pm on Saturdays or Sundays.

GROUP WORKOUTS
Have your group work out together in a private class; choose from cycling, boot camp, yoga, Zumba, kickboxing, self-defense, TRX, and more! Participating in a group class will make your team healthier, reduce stress, and promote collegiality. Post-class- enjoy a happy hour package in our beautiful restaurant or rooftop space.
BASKETBALL COURT RENTALS
Host your own 3-on-3 tournament on the most beautiful basketball court in Chicago. We provide the draw and referees; your team will enjoy trophies, jerseys, and beverages. Half and full-court options are available. This great team-building and social activity is best for groups starting at 6 teams.
CATERING
LSF is proud to offer on-site and off-site catering options for event clients. All catering is prepared by our in-house restaurant and team from Press Kitchen. Whether you are hosting an event at our facility, or in need of catering at your office, we offer convenience and ease for your group. We would be happy to cater your next office lunch, meeting, seminar, lunch n' learn, etc.! Choose items from the menus below or let us build a custom menu that compliments the uniqueness of you and your event!
---
Have your next event with us! Contact ICevents@LakeshoreSF.com to get more information or book your private event.