Take in downtown Chicago city skyline views from our rooftop bar! Featuring a selection of beer, wine, seltzers, and canned cocktails, entertainment, and a rooftop swimming pool.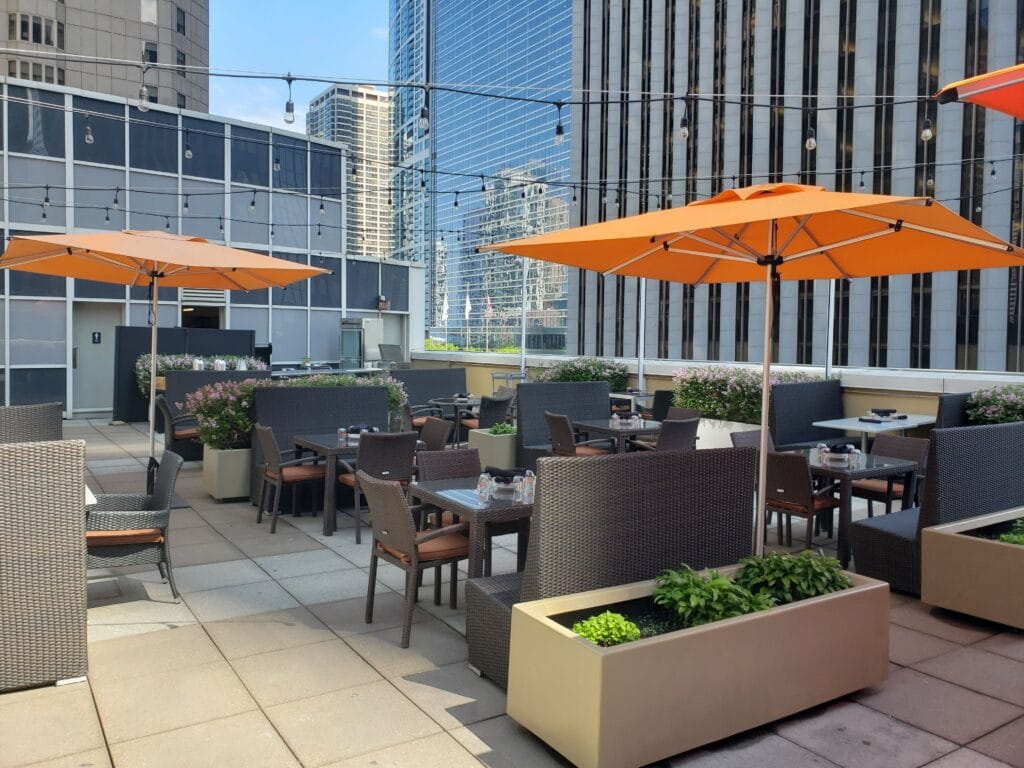 NOW OPEN 4:00-7:30 PM, MONDAY-THURSDAY!
Summer's calling and what better way to spend it than with a cold drink in your hand while lounging in the pool surrounded by Chicago's beautiful skyline! The Skyline Bar is now open. Join us Monday through Thursday for a refreshing beer or wine with a great view. Email us at SkylineBar@LakeshoreSF.com for more information.
Open to members and non-members.
SKYLINE ROOFTOP BAR LOCATION:
Lakeshore Sport & Fitness at Illinois Center
211 North Stetson, Chicago, IL 60601
312.856.1111
SKYLINE BAR HOURS:
Monday-Thursday: 4:00-7:30 pm
Looking to rooftop bar hop? You can also check out our Harvest Restaurant and Bar in Lincoln Park!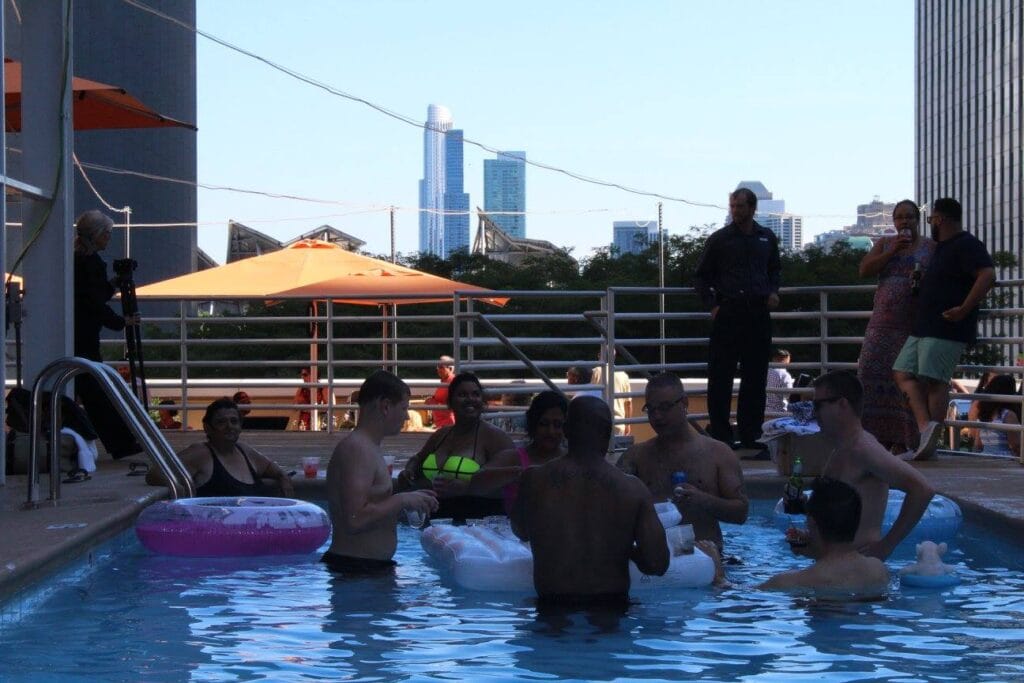 Drink Menu
BEER
Bud Light – $4
Lager – 4.2% ABV (12 oz)
Goose Island 312 – $5
Urban Wheat Ale – 4.2% ABV (12 oz)
Bell's Two Hearted – $6
IPA – 7% ABV (12 oz)
Maplewood "Son of Juice" – $8
IPA – 6.3% ABV (16 oz)
SELTZER
High Noon – $6
Black Cherry, Watermelon, or Lime
Vodka & Soda – 4.5% ABV (12 oz)
CANNED COCKTAILS
Cutwater- Vodka Mule – $8
Natural Ginger, Splash of Bitters, Hint of Lime – 7% ABV (12 oz)
Cutwater- Tiki Rum Mai Tai – $8
Cutwater Barrel Aged Rum, Bali Hai Tiki Gold Rum, Pineapple Coconut, Citrus – 12.5% ABV (12 oz)
Cutwater- Tequila Margarita – $8
Tequila with mix of tart lime, pure cane sugar, hint of orange – 12.5% ABV (12 oz)
WINE
White
Daou-Sauvignon Blanc – $10/$40
Paso Robles – 2019
DeLoach- Chardonnay – $7/$28
Russian River Valley – 2015
Markham- Chardonnay – $7/$28
Napa Valley – 2017
Canyon Road- Sauvignon Blanc – $5/$20
California – 2019
Tabor Hill- Moscato – $5/$20
Michigan – 2019
Rosé
Los Vascos- Rosé – $8/$32
Chile – 2018
Red
High Valley- Cabernet Sauvignon – $12/$48
Lake County, California – 2018
Los Vascos- Cabernet Sauvignon – $8/$32
Chile – 2017
Ponzi- Pinot Noir-$8/$32
Willamette Valley – 2016
MollyDooker "The Scooter"- Merlot – $8/$32
Australia – 2016