Take in downtown Chicago city skyline views from our rooftop bar! Featuring a selection of beer, wine, seltzers, and canned cocktails, entertainment, and a rooftop swimming pool.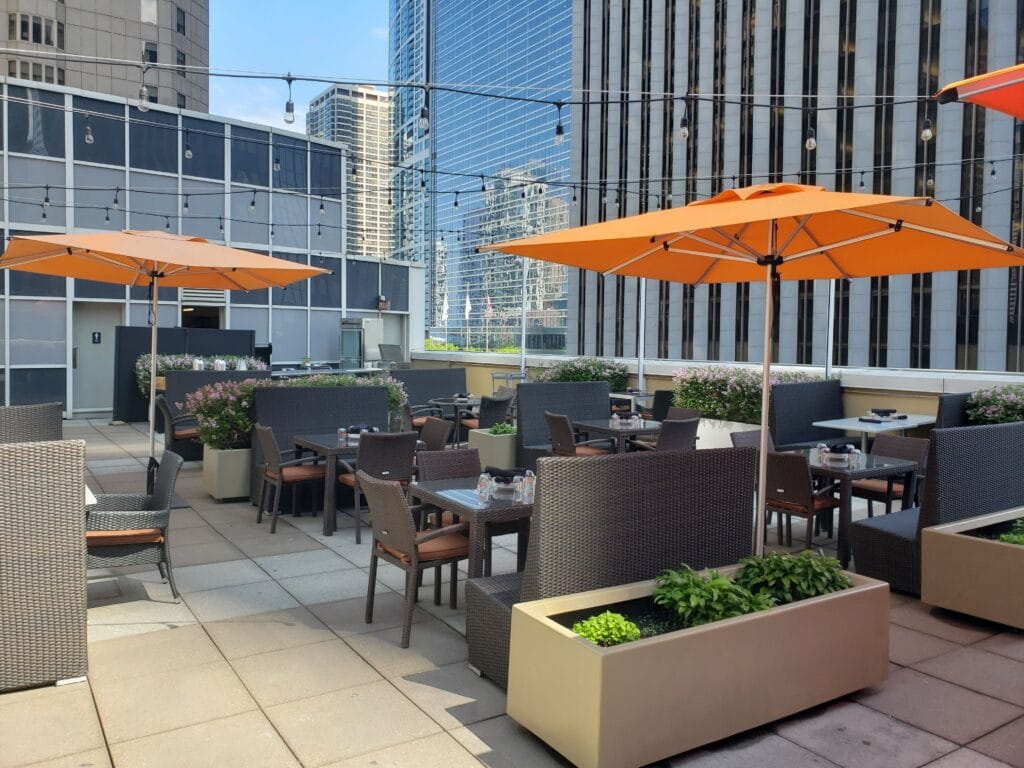 Summer's calling and what better way to spend it than with a cold drink in your hand while lounging in the pool surrounded by Chicago's beautiful skyline! The Skyline Bar is now open. Join us Monday through Thursday for a refreshing beer or wine with a great view. Email us at SkylineBar@LakeshoreSF.com for more information.
Open to members and non-members.
SKYLINE ROOFTOP BAR LOCATION:
Lakeshore Sport & Fitness at Illinois Center
211 North Stetson, Chicago, IL 60601
312.856.1111
SKYLINE BAR SEASONAL HOURS:
Monday-Thursday: 4:00-7:30 pm (through August 26)
Members are also welcome to purchase a drink at the front desk and utilize the rooftop outside of seasonal hours.
Looking to rooftop bar hop? You can also check out our Harvest Restaurant and Bar in Lincoln Park!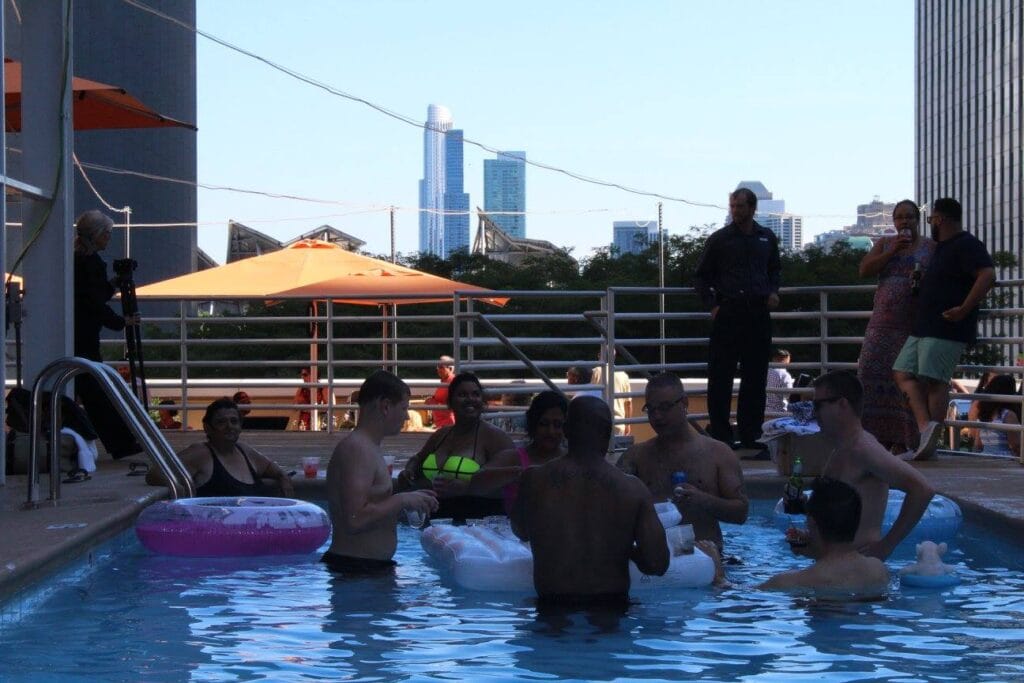 Drink Menu
BEER
Bud Light
Lager – 4.2% ABV (12 oz)
Goose Island 312
Urban Wheat Ale – 4.2% ABV (12 oz)
Bell's Two Hearted
IPA – 7% ABV (12 oz)
Maplewood "Son of Juice"
IPA – 6.3% ABV (16 oz)
SELTZER
High Noon
Black Cherry, Watermelon, or Lime
Vodka & Soda – 4.5% ABV (12 oz)
CANNED COCKTAILS
Cutwater- Vodka Mule
Natural Ginger, Splash of Bitters, Hint of Lime – 7% ABV (12 oz)
Cutwater- Tiki Rum Mai Tai
Cutwater Barrel Aged Rum, Bali Hai Tiki Gold Rum, Pineapple Coconut, Citrus – 12.5% ABV (12 oz)
Cutwater- Tequila Margarita
Tequila with mix of tart lime, pure cane sugar, hint of orange – 12.5% ABV (12 oz)
WINE
White
Daou-Sauvignon Blanc
Paso Robles – 2019
DeLoach- Chardonnay
Russian River Valley – 2015
Markham- Chardonnay
Napa Valley – 2017
Canyon Road- Sauvignon Blanc
California – 2019
Tabor Hill- Moscato
Michigan – 2019
Rosé
Los Vascos- Rosé
Chile – 2018
Red
High Valley- Cabernet Sauvignon
Lake County, California – 2018
Los Vascos- Cabernet Sauvignon
Chile – 2017
Ponzi- Pinot Noir
Willamette Valley – 2016
MollyDooker "The Scooter"- Merlot
Australia – 2016
*selection subject to change