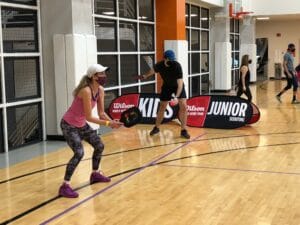 Looking to try out a new sport that is fun, social, and a great way to help you stay in shape? Pickleball is one of the fastest-growing sports in the U.S. It is a combination of Tennis, Badminton, and Ping-Pong and so easy to learn. Pickleball can be played indoors or outdoors year-round and appeals to all age-levels. We're excited to offer various types of pickleball clinics and ways to play pickleball in Downtown Chicago at our Illinois Center club location.
Weekly Organized Open Play
This is a free member's-only program and is open to all skill levels. No need to worry about having a partner because we pair you up and rotate who you play with throughout the session. The perfect social activity for all levels of play.
Pickleball Drills and Skills
This is a great way to learn the basics and gain more knowledge of the sport. It is open to members and guests of members. Drills and Skills is a 90-minute session focusing on practicing certain components of the game. Our PPR-certified Pickleball Professional, Kevin Cummings is our instructor, so come learn from the best. There is a fee to participate.
Introduction to Pickleball
Learn the exciting & challenging sport of Pickleball. Get the basics of stroke mechanics, court play & rules. Have you played tennis, badminton, or ping-pong? This sport is an easy transition. Free for members and a fee is required for guests.
Pickleball Ratings Clinic
Interested in playing at a more competitive level? Time to get your official Pickleball rating. Our PPR-certified Pickleball Professional, Kevin Cummings will guide you through the steps to get prepared to play popular tournaments and leagues in the Chicagoland area. Members and guests can get their rating for a nominal fee.
Round Robin Tournaments
Looking for some friendly competition? We offer various types of members-only tournaments throughout the year.
For more information or to register for a pickleball program in Downtown Chicago at Lakeshore Sport & Fitness – Illinois Center, call (312) 856-1111 or email us at ICPickleball@LakeshoreSF.com.
Interested in membership for more access to our pickleball programming?
Want to learn more about the game of Pickleball? Check out these resources: