Pickleball in Downtown Chicago
Looking to try out a new sport that is fun, social, and a great way to help you stay in shape? Pickleball is one of the fastest-growing sports in the U.S. It is a combination of Tennis, Badminton, and Ping-Pong and is so easy to learn. Pickleball can be played indoors or outdoors year-round and appeals to all age levels. We're excited to offer various types of pickleball clinics and ways to play pickleball in Downtown Chicago at our Illinois Center club location.
Weekly Organized Open Play
This is a free member's-only program and is open to all skill levels. No need to worry about having a partner because we pair you up and rotate who you play with throughout the session. The perfect social activity for all levels of play. Need a paddle? We have plenty to lend you.
Pickleball Drills and Skills
This is a great way to learn the basics and gain more knowledge of the sport. It is open to members and guests of members. Drills and Skills is a 90-minute session focusing on practicing certain components of the game. Hosted by one of our six instructors, including two PPR-certified team members, Luis Sanchez, and Greg Borzo. There is a fee to participate.
Introduction to Pickleball
Learn the exciting & challenging sport of Pickleball. Get the basics of stroke mechanics, court play & rules. Have you played tennis, badminton, or ping-pong? This sport is an easy transition. There is a fee for members and guests to take the 90-minute class.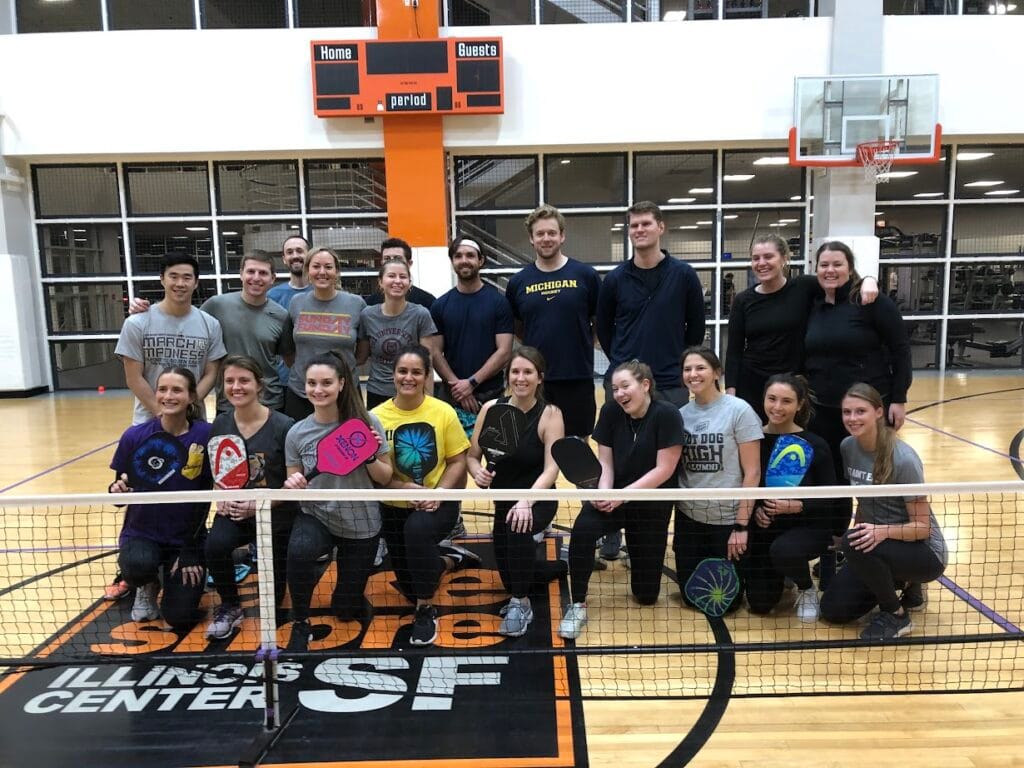 Scramble/Mixers
Play, Eat, Drink & be Social! Join us for an afternoon and evening of Pickleball play. The event is open to members, friends, and guests. Informal play in a Scramble format, food, drinks, and prizes. Fee for members and guests. Pre-registration is required, and space is limited.
Round Robin Tournaments
Looking for some friendly competition? We offer various types of members-only tournaments throughout the year.
Pickleball Team Building and Parties
How about a fun way to get your community or company team together? Put together your own group and enjoy the fastest-growing sport in the US. Add instruction, competitive play, or just supervised open play. We have plenty of paddles and pickleballs. Consider adding a food and drink package in Press Kitchen. Open to all groups large and small.
Pickleball at LSF Illinois Center Downtown Chicago Locations
For more information or to register for a pickleball program in Downtown Chicago at Lakeshore Sport & Fitness – Illinois Center, call (312) 856-1111 or email ICPickleball@LakeshoreSF.com.
Interested in membership for more access to our pickleball programming?
Want to learn more about the game of Pickleball? Check out these resources: