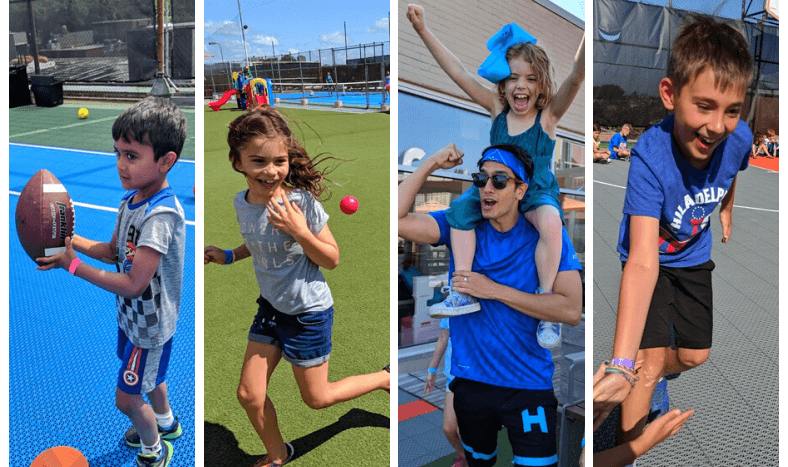 Ages 4-18 | Full & Half Day Camps
Our Sports Camps are designed for campers of all ages and skill levels. Our hands-on approach is aimed at helping all athletes improve their skills and learn new ones! We focus on sportsmanship, teamwork, competition, and most of all fun!
Beauties in Beast Mode
5-10 years | July 5-9, August 2-6, August 30-September 3 | 9am-3pm | $545/week
Girls only! Join us for a week of learning about what makes us so special! We will work out, find our inner beauty, talk about positive role models, and more! Who says girls can't be equally beautiful and tough? Fun swim included.
Nothing But Nets
5-10 years | June 28-July 2, July 19-23, August 2-6, August 16-20 | 9am-3pm | $545/week
Soccer, basketball, ping pong, volleyball, tennis, and more….we'll explore a variety of sports this week, all with nets! We'll learn the fundamentals, practice our skills, and build good sportsmanship! Fun swim included.
Stingrays Swim Camp
8-18 years | July 5-9 | 9am-3pm | $725/week
Stingrays Swim Camp is for campers who are on a swim team and are skilled in the major four strokes. Stingrays Swim Camp focuses on the development of various strokes and team-building activities. All coaches are current USA registered coaches with a wealth of personal competitive experience as well as coaching time. Two meals are included daily.
Tennis Camp
4-13 years | June 7-August 27 | 9am-3pm or 9am-12:30pm | $345/week or $545/week
Tennis Camp is a uniquely designed recreational program that accommodates beginner and intermediate level players. Campers are divided into groups based on age and ability to maximize education and activity. Our team of tennis professionals and counselors focus on improving technique, movement, footwork, and tennis strategy. We focus on the importance of development while learning to enjoy the challenges of tennis! Fun swim included.
How to Register for Camp:
Need Help Registering Or Have Questions?
You can reach us at LPCamp@LakeshoreSF.com or fill out this form and we'll get in touch!
Check out our full list of summer camp offerings, pricing, and session dates.