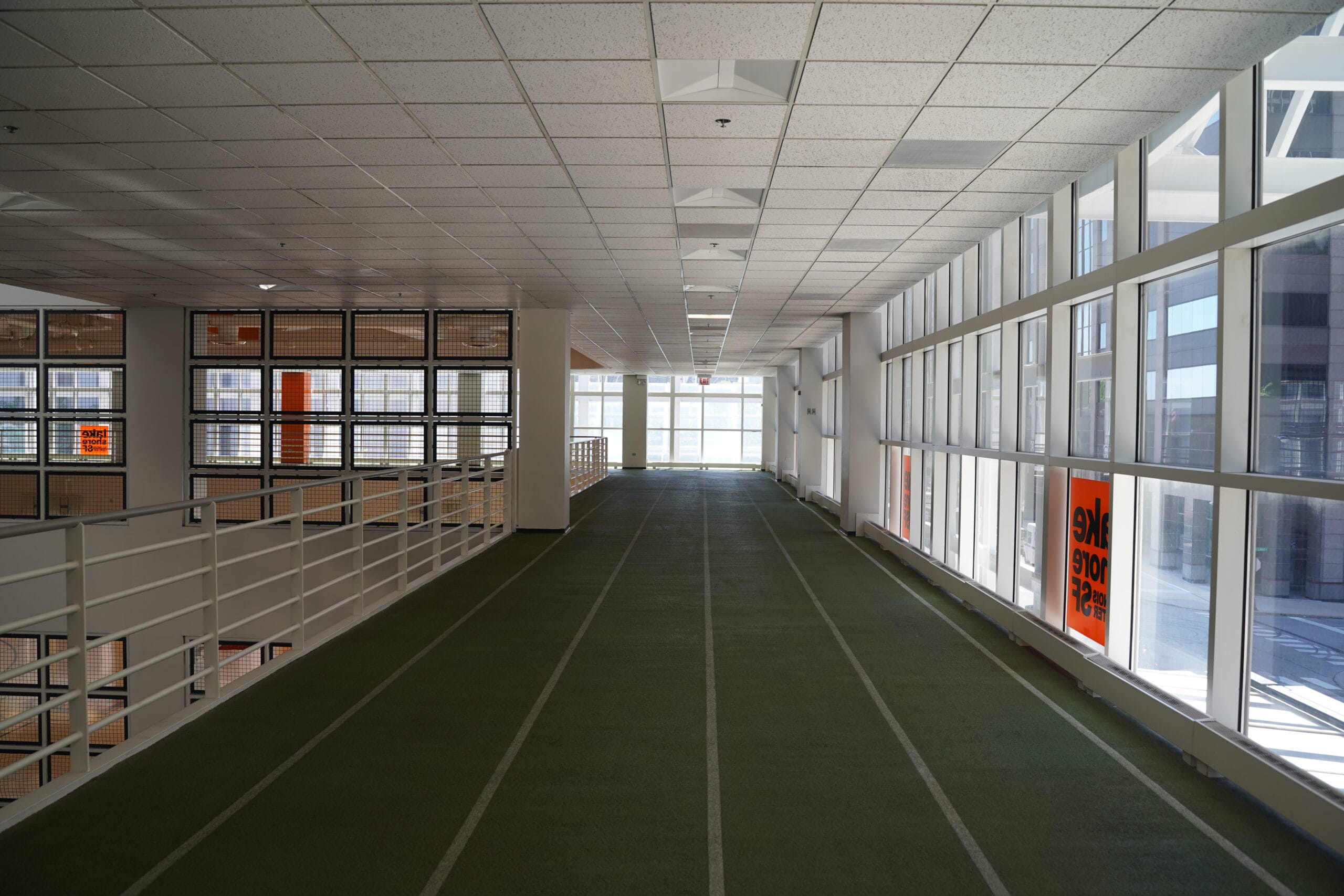 Don't let your fitness routine get interrupted because of poor weather or a change of the season. If you're one who typically exercises outdoors, you can easily pick up your favorite activities indoors at your health club with the convenience of having everything under one roof! Here are some indoor fitness activities you can do in Chicago.
Running
Chicago has numerous scenic trails and parks, so it's appealing to run outside in spring and summer. Cold weather won't stop some runners, but if you prefer not to develop icicles on your face, it's time to bring your running routine indoors. Don't fret, too much though. The treadmills are definitely an alternative. Runners with joint pain may also opt to use the ellipticals, which have less impact on the knees. Lastly, both of our Lakeshore Sport & Fitness facilities have large indoor running tracks for those that don't want to change their exercise habits too much.
Lap Swimming
Another benefit of joining a health club is the access to an indoor lap pool, allowing you to swim all year long. Dedicated swimmers won't want any disruptions to their exercise routines. Lap swimming is one of the best forms of exercise, so it's only natural you'd want that as an option this fall/winter. Your body's natural buoyancy in water produces little-to-no pressure for a low-impact workout, making it another excellent option for people with joint problems. To exercise various muscle groups, you can select from a variety of strokes or drills. To further isolate your legs and arms, you can use a kick board or pull buoy, respectively.
LSF-Lincoln Park and LSF-Illinois Center both have spacious indoor lap pools. Reserve your lane in advance using the MyLSF app!
Basketball
Basketball is typically played indoors, but playing in the fresh air at a park or even in a driveway is still an option during summer. By playing indoors at your health club, you can play all year long with your fellow members. Basketball isn't just a great workout that burns lots of calories, but it's also a great way to stay social and meet new people!
Join in during pick-up games, compete in seasonal leagues, or improve your game with lessons or clinics at LSF-Lincoln Park & LSF-Illinois Center!
Tennis
Tennis is an indoor/outdoor sport, much like basketball, but playing conditions can be drastically different between the two. The consistent conditions in a climate-controlled setting will appeal to most players. Not only that, but indoor tennis clubs also have well-connected player groups, making it simpler to find opponents to play against and develop friendships with.
At LSF-Lincoln Park, you can book courts in advance, play in leagues, and take group or private tennis lessons to improve your game! Tennis is the sport of a lifetime, meaning it appeals to all ages and ability levels. Check out our youth and adult programs.
Pickleball
Pickleball's popularity has exploded as of late. It is easy to learn for all ages and ability levels, incredibly fun, and will keep you active all year long. While it can be played outdoors, it's generally considered to be an indoor sport because of the lighter wiffle balls that are used.
LSF-Lincoln Park and LSF-Illinois Center both have dedicated pickleball programs and permanent marked courts. Play casually during open play hours, improve your skills through drill groups, or compete with others in skill challenges and tournaments. You can even get together with fellow pickleball enthusiasts during our pickleball socials and mixers!
---
Indoor Fitness Activities in Chicago
Obviously there are many indoor fitness activities in Chicago, but the importance thing is to choose something that keeps you active on a regular basis. Winter is known to be a challenging time to maintain an exercise routine, especially around the holidays. This is also a perfect time to try something new if you're looking to mix things up!
Tags:
indoor fitness activities
,
indoor fitness Chicago
,
indoor pool chicago
,
indoor tennis
,
winter workouts