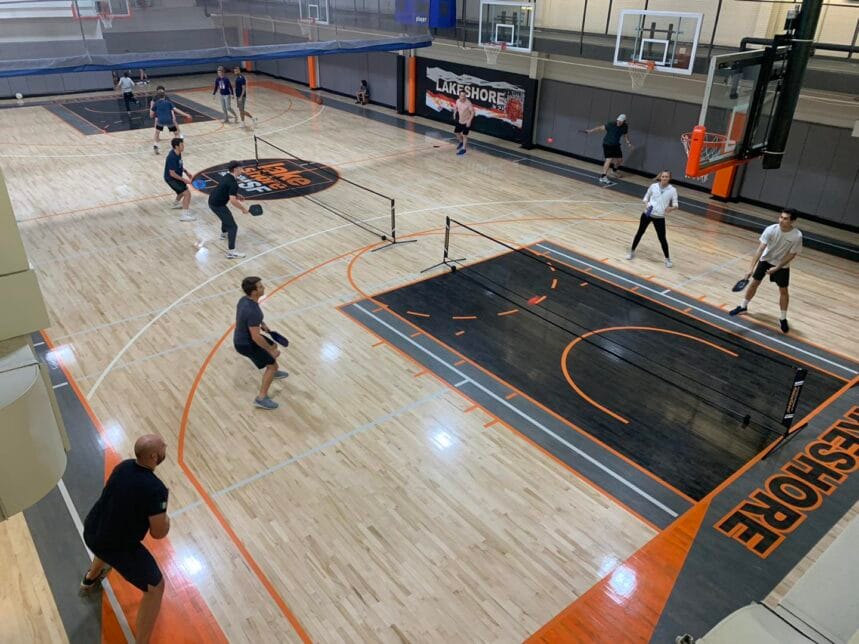 By now, you've probably heard about pickleball even if you don't play it. It has become immensely popular and is sweeping communities across the country. So what's the big deal (or the big dill?) and why is it so popular?
It's Easy to Learn
Pickleball combines aspects of badminton, table tennis, and tennis. The game mixes rules from other racquet sports, so it will at least feel somewhat familiar for newer players. It is played on a smaller court with shorter nets that looks and feels like a miniature tennis court. Although it can be played as singles or doubles, it is typically played in doubles format.
Pickleball has its own unique set of rules, but most new players can pick up on them very quickly. Many players are typically ready to play matches after a couple lessons/clinics taught by pickleball instructors. The notable differences in pickleball are underhand serving, the point structure, and the ball must bounce once on each side before volleying can begin.
It's Accessible
When it comes to accessibility, many health clubs, parks, and recreational facilities are starting to adopt it as a regular offering. There isn't too much required to play pickleball either. A pickleball net, paddles, and wiffle ball are all that's needed. There are standards for the equipment that are required to properly play pickleball, but they are becoming more and more common at health clubs and major sporting goods stores. For example, the net should be 34 inches high at the center of the court and 36 inches at the post.
What may prove less easy to find are drawn pickleball courts, meaning the courts have the proper lines and dimensions on a hard surface. Typically these are drawn on existing wood courts or tennis courts.
It Doesn't Require a Great Deal of Movement
Pickleball is fun for people of all ages, and especially great for people with mobility issues. That's not to say there is no movement whatsoever, because there is, but you don't have to sprint cross court like in tennis. The smaller courts make it much more manageable to play returns. In doubles play, the rallies are vary fast-paced, so it helps to be technically proficient where you place your shots so they are out of reach for your opponents.
Where Can I Play Pickleball in Chicago?
You can play pickleball in Chicago at both our Lakeshore Sport & Fitness locations! We have lessons, clinics, leagues and organized open play for players from beginner to advanced! Click the buttons below to learn more about the specifics of pickleball programming at each of our locations in Lincoln Park and downtown Chicago!
Learn More About Pickleball at Illinois Center
Learn More About Pickleball at Lincoln Park
Tags:
pickleball
,
pickleball Chicago