Join us for Camp Lakeshore at Lincoln Park! We host the premier summer camp in Chicago and would love to have you in camp with us this summer! Email us at LPCamp@LakeshoreSF.com to learn more about the best camp in Chicago!
What do campers do while at Camp Lakeshore?
All LSF camps are based in our 185,000 square-foot state-of-the-art athletic facility, including a large outdoor rooftop play area. Most camps travel to surrounding neighborhood parks, as well as many exciting locations in the Chicagoland area during field trips.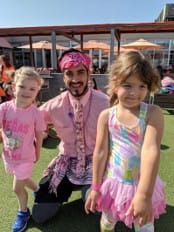 Traditional Day Camp:
Campers swim 4 days a week – our instructors provide swim lessons twice a week (M/T) and fun swim happens two times a week (W/TH). All counselors swim with the campers.
Camp activities are our special activities that happen each week. All campers explore their interests in the areas of sports, fitness, art, theater/drama, nutrition, music, and more!
Wacky Wednesdays are a very special day each week – from Camp Prom, Camp Olympics, Water Wars, and a Luau Cookout, we spend Wednesday afternoons together as a full camp with silly games and special events. (Full Day Campers Only)
Fieldtrips happen weekly! Some of our favorite destinations include: Altitude Trampoline Park, Adler Planetarium, and Medieval Times.
Tennis Camp:
Campers participate in play-based tennis activities throughout the entire day.
Additional activities, such as crafts, board games, and more will be available on the sideline for those who need a break from tennis.
Campers have the option to participate in fun swim 5 days a week. All counselors swim with the campers.
Pee Wee Camp:
Campers receive swim lessons 5 days a week!
Weekly special activities include yoga, music, Spanish, and STEM.
Pee Wees focus on academic achievement through daily circle time and small group activities, which focus on language and literacy, journaling, fine motor skills, beginning math skills, and art exploration.
Our summer curriculum includes exploratory activities focused on the theme of being outdoors and learning all about nature this summer!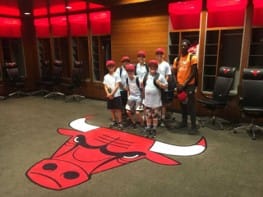 Camp 48:
Campers start and end their day at LSF but depart to explore Chicagoland daily. Each week includes a theme in which we build field trips and experiences that are perfect for 4th -8th graders.
Campers will travel in our LSF Express or in a rental bus to each of our destinations. Other trips may be within walking distance or allow us to utilize public transportation.
Sports & Specialty Camps:
These camps are designed to be progressive, weeklong camps that have a dedicated focus on a featured interest.
As appropriate with the weekly theme, campers may also participate in Camp activities, such as yoga, nutrition, science, and more!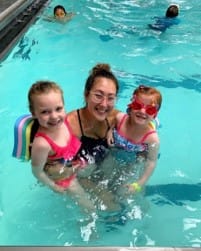 Swimming at Camp Lakeshore:
All our camps swim in our 3-4 foot indoor/outdoor pool on the 4th floor. All campers are required to take a swim test to determine if they can swim independently or with a "learn to swim" belt. Counselors swim with their campers. For those camps with swim lessons, our swim lessons are taught by certified swim instructors, and groups are split according to ability level.
Be sure to pack the following for camp:
Swimsuit
Hair tie or swim cap (long hair must be pulled back in the pool)
Clothes for after swimming
We provide the towels
Interested in hearing more about camp? Please reach out to our Camp Director at LPCamp@LakeshoreSF.com or at 773-770-2418.
Hope to see you this summer! Click here for more information or click here to register!