Want faster, better results from your workouts? You need to work with the best trainers in the business!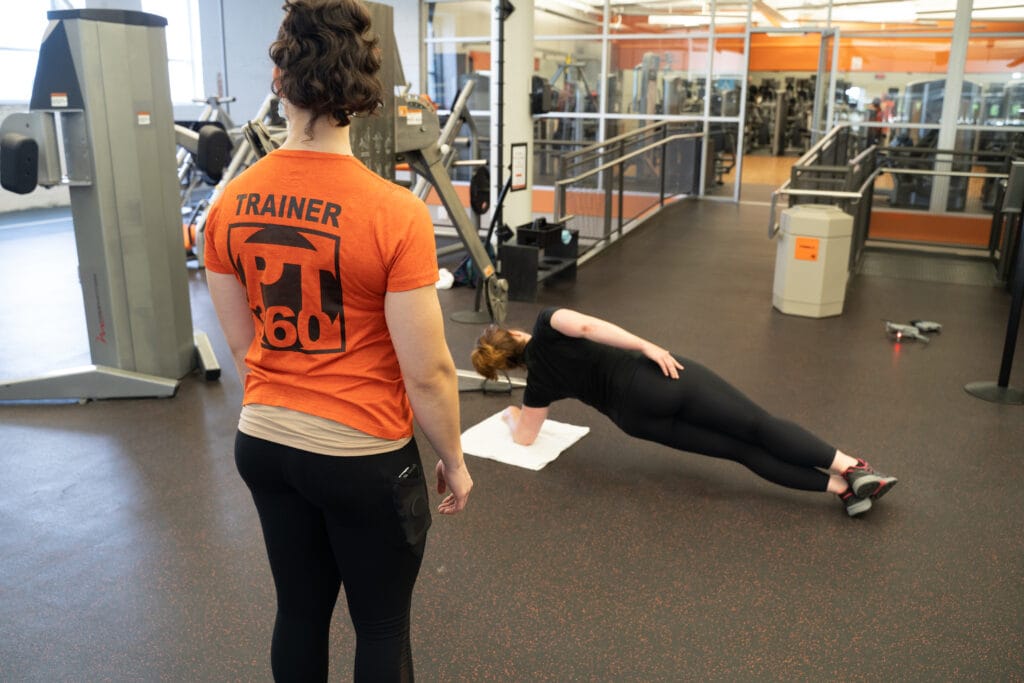 Best Personal Trainers in Chicago
LSF employs the finest personal training staff, who are all nationally certified, committed to furthering their own education on a routine basis, and staying at the forefront of their field.
Our PT360 certified personal trainers are highly trained and participate in weekly ongoing educational training to ensure that your customized program is optimal for your unique situation and that training sessions are optimized for you to achieve your goals.
How the PT360 Program Works
A 360° APPROACH TO WHERE YOU ARE. The program begins with an intake assessment where you and your LSF trainer talk about and agree on fitness goals. Whether you just need to get in shape to live a healthier and happier life or need to drop 10 pounds before an important event, this session draws a line in the sand and sets you on a course to achieving the fitness level and body type you want. The PT360 Assessment includes Functional Movement screening and the InBody 520 scan. An InBody scan tells the ratio of lean body mass to fat mass in the entire body and in each individual limb. It also compares your body composition to an ideal composition. The PT360 Assessment allows the trainer to appropriately create a comprehensive program and track results going forward.
A 360° APPROACH TO KEEPING YOU THERE. Unlike a lot of personal training programs that end once fitness goals are achieved, PT360 is designed to put you on the path to better sport and fitness for life.
PT360 Includes:
Initial Fitness Consultation
Personalized Goal Setting
Results-focused Training
Choose a PT360 System that's right for you!
Personal Training one-on-one or private group
Kickstarter monthly plan with trainer-prescribed workouts
TeamX small group training classes
PT360 offers one-on-one, buddy, and small group training, as well as a variety of other programs. For more information or to sign up for personal training sessions, contact us at PT360@LakeshoreSF.com.
Now offering Virtual Personal Training!
PT360 is now offering Virtual Personal Training! This is a great way to kickstart your workout routine. Virtual PT360 can be ideal for those with a tight work schedule or those needing to quarantine or stay home due to health restrictions. Our trainers are equipped to get you moving from the comfort of your home, hotel, or Airbnb!
Standard personal training rates apply. For more information or to get started contact us at PT360@LakeshoreSF.com.
Kickstarter Program
Our Kickstarter program allows you to work on your goals on your own time without a trainer or coach working directly with you. Each month you're provided a set of workouts to complete over the month, on your own, with club equipment. Your coach will check in on your progress and adjust your program as needed.
Kickstarter Includes:
Initial Fitness Consultation
12 Guided Workouts per Month
Weekly Goal Check-ins
Quarterly InBody Check-up
Individual Training Plan (workouts that are geared towards your goals to be done independently)
For more information or to sign up for Kickstarter, contact us at PT360@LakeshoreSF.com.

TeamX Small Group Training
COMMUNITY FITNESS. PERSONALIZED RESULTS.
TeamX is a small-group-format personalized training class that allows you to get an efficient and effective workout alongside a coach that knows you and your goals.
In this small group setting, coaches will use powerlifting bars, TRX, kettlebells, boxes, rowers, ladders, Bosu balls, stability balls, and more. Exercises and cues will be geared towards your body and needs in this small group setting of like-minded individuals.
If you're new to exercise or an avid athlete, there are classes welcoming to all. Whether your goals are in weight loss, strength, mobility, or sports performance, TeamX is a results-oriented program for all levels.
Join for a drop-in class or take unlimited classes each month!
View the schedule and sign up for TeamX classes on the MyLSF app – Classes.
For more information or to get started contact us at TeamX@LakeshoreSF.com.
New Year New You Weight Loss Program
An inspiring, motivating, social, and fun 8-week weight loss challenge designed to help members meet their fitness and weight loss goals. This program offers built-in accountability, education, and a certified personal trainer as the coach and captain of your weight loss team.
Includes:
Unlimited TeamX
Guided Workout Packet
2 Personal Training Sessions
Complimentary Consultation & Injury Screen
$299 for members, contact PT360@LakeshoreSF.com for more information or to sign up.