Jumpstart your fitness routine with TeamX group training!
TeamX is a results-oriented small group training program with personalized coaching aligned to your fitness goals. TeamX classes use specialized equipment such as TRX, kettlebells, dumbbells, ropes, push/pull sleds, powerlifting bars, and more.
Each TeamX class has a different focus: Kettlebells & Dumbbells, Mobility & Flexibility, Foundations, Powerlift, and more. Your coach will align cues to be directed towards your personal fitness goals to create an individual workout that is both efficient and effective for your unique body.
View the schedule and sign up on the MyLSF App > Classes or contact TeamX@LakeshoreSF.com for more information.
Why is TeamX the right training option for you?
Results-driven program
Personalized exercise cues for better results in a small group setting
Affordable training to reach your fitness goals
Workout with others and build community
How is TeamX different than Group Fitness Classes or One-on-One Training?
Cheaper than 1-on-1 and you get the fun of working out with or making new friends
More personalized instruction for better results than Group Fitness Classes
Which group training class will help you reach your goals?
FOUNDATIONS
Foundations is a great class to start with when participating in Team X. The class structure will be focused on foundational movements that all skill levels will be able to perform. Your coach will give you cues on form and help you build confidence to progress your movements. The workout will be challenging, help build strength, break a sweat, but most importantly help you learn and build confidence in your workout.
KETTLEBELLS & DUMBELLS
This class has a strength and conditioning focus. You will perform strength exercises with equipment like Kettlebells & Dumbbells, and your coach will pick the right weight for you to meet your goals. Our exercise selection will build strength and muscle. In this class, you'll find compound exercises that will challenge your body and improve your overall health. This class is ideal for those looking to strength train, learn form, tone, lose weight or improve athletic performance.
MOBILITY & FLEXIBILITY
Mobility will help you move and feel better throughout the day. This class will use movements that will challenge your body's current range of motion. Improving your current movement quality will result in injury reduction as well as improved performance in and out of the gym.
CIRCUIT TRAINING
Circuit Training is a fast-paced and exciting workout! This class focuses on strength training and plyometric exercises that vary from week to week. Each exercise is timed with minimum breaks. This challenging class uses advanced movements but is open to all levels. You will be glad you came when it's over!
POWERLIFT
Power Lift will help you find gains and build strength with focused training and unique exercises. Learn how to use Power Lifting equipment in new and different ways to maximize your workouts and muscle strength. This class will work major muscle groups and is ideal for those looking for focused strength training and strength endurance.
ROW & LIFT
A combination of cardio training by the rower and strength training. The class will have a mix of strength movements using different equipment from sleds, TRX, dumbbells, kettlebells, body weight, and more. By incorporating both cardio and lifting into this hybrid workout, you will improve your aerobic capacity and strength. All skill levels are welcome as we modify and progress movements to ensure a safe and effective workout.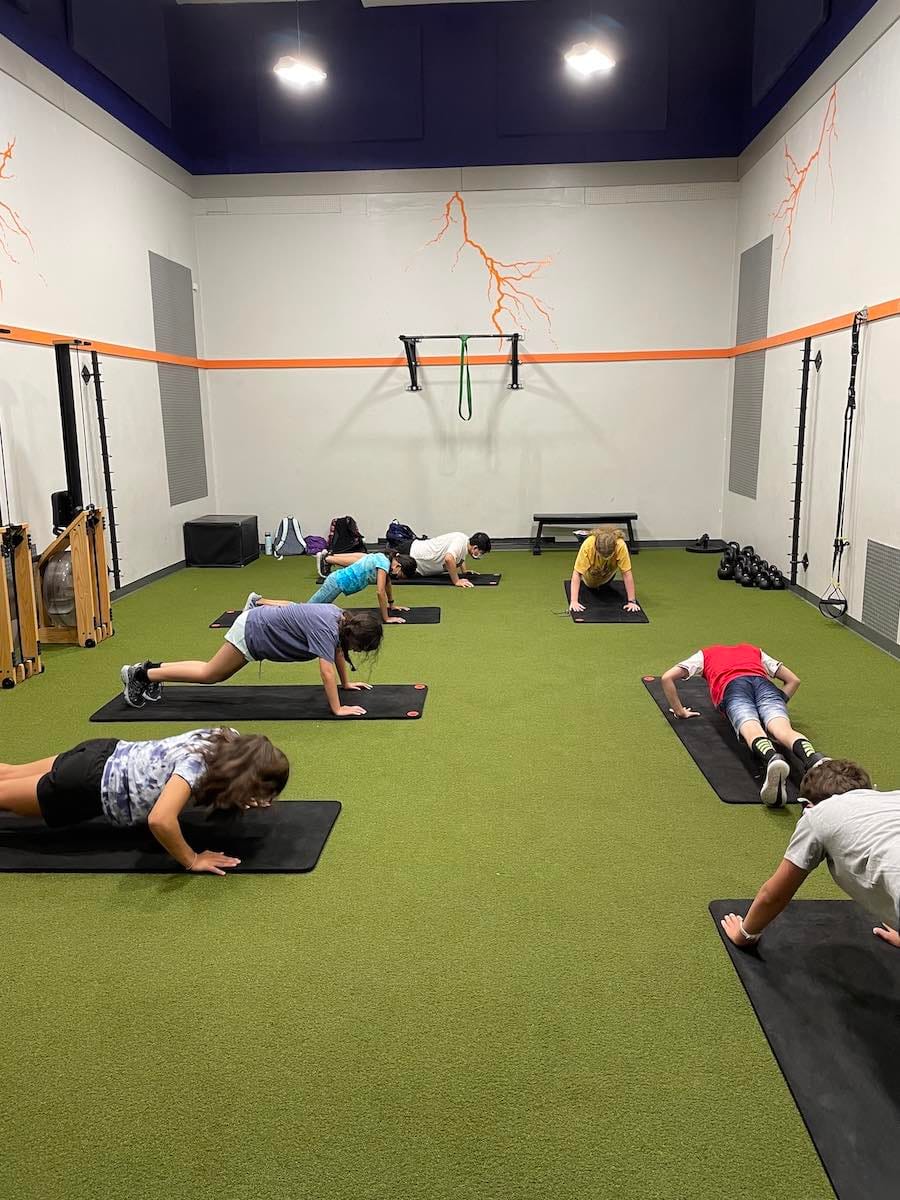 KID FIT
Kid Fit is for 4th-8th graders and is a great way to get moving! You will work on your speed, agility, deceleration, conditioning, and strength. Your coach will teach you exercises using your body weight, resistance bands, medicine balls, agility ladders, cones, and more. This class will take you through a workout that will challenge your body, but most importantly HAVE FUN while being active. Kid Fit will improve your sports performance, help get you moving, learn exercise, and stay active!
HIGH SCHOOL LIFT
High School Lift will get you active! In this class, you will go through a workout that will challenge your body using bodyweight movements, TRX, medicine balls, sled, dumbbells, and more. Your coach will teach you proper form as you learn new movements. If you are looking to get active, build strength, or train in a structured way to improve your performance in sports, this is the class for you.
Join for a drop-in class or take unlimited group training classes each month!
$30/class drop-in
$149/month unlimited
Not into group training?
Check out our PT360 personal training program for one-on-one training options.