Join us for Summer Camp 2023 Lincoln Park!
Camp Lakeshore is LSF's premier summer day camp offering – the best in Chicago! We offer weeklong summer camp options for kids ages 2-18. Mix and match your entire summer with LSF in our Traditional Day Camp, Chicago Summer Sports Camps, Specialty Camps, or our Chicagoland Field Trip Camp!
REGISTRATION IS NOW OPEN, BUT SESSIONS ARE FILLING FAST! RESERVE YOUR WEEKS TODAY!
Register for Camp Get More Information
Learn More About Each of Our Camps
Welcome to our exciting summer camp in Lincoln Park, Chicago! Our summer camp provides an unforgettable experience for kids in Chicago, offering a safe and fun environment for children to learn, play, and make new friends. Our summer day camp in Chicago is packed with engaging activities, including sports, arts and crafts, games, and much more! Our experienced team of counselors is dedicated to making sure every child has an amazing time at camp, while also ensuring their safety and well-being. So whether your child is a first-time camper or a seasoned veteran, our summer camp in Chicago is the perfect place for them to spend their summer days!
What You Can Expect:
Our mission at Camp Lakeshore is to operate fun and engaging programs while fostering our campers' physical, emotional, and social well-being. We give kids an experience that will last a lifetime! All Camp Lakeshore programs are based in our 185,000 square-foot, state-of-the-art facility which includes a large outdoor rooftop, playground, studios, and indoor/outdoor pool. Our camps also travel to surrounding neighborhood parks and field trips!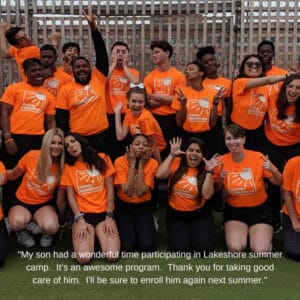 Camp Staff:
Our quality staff sets Camp Lakeshore apart from others! Our camp staff is carefully selected for their enthusiasm, experience, and professionalism. Before camp begins, all camp staff is extensively trained in policies and procedures, CPR/First Aid, and how to effectively work with campers. We maintain low staff-to-camper ratios so that each child has the best supervision and support.
Lunch & Snack is Included:
Our Executive Chef has designed a menu of snack and lunch options, specifically for our campers. All campers receive a daily snack, which includes fresh fruit. Full-day campers also receive a buffet-style lunch which includes a choice of entree, fruit, vegetable, a side, and a drink. Bagged lunches are provided on field trip days. Our meals are designed to be balanced and nutritious to promote lifelong healthy living!
2023 Summer Camp Hours:
Half-Day Camps: 9am-12:30pm
Full-Day Camps: 9am-3pm
Camp48: 9am-4pm
2023 Summer Camp Dates:
Don't know your schedule? Don't worry! You can sign up now and you'll have until May 15th to solidify your dates.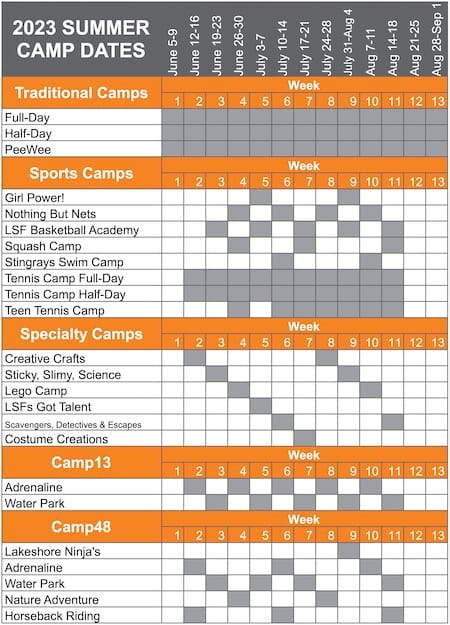 2023 Summer Camp Rates:
Sessions are filling up fast! Reserve your weeks today so you can get the kids out of the house this summer with Camp Lakeshore.
Pre-Camp Care $15/day
After-Camp Care $30/day
Pre/After-Camp Bundle $40/day
Camp Discount Offers:
$100 referral credit per family you refer that signs up for 2+ weeks!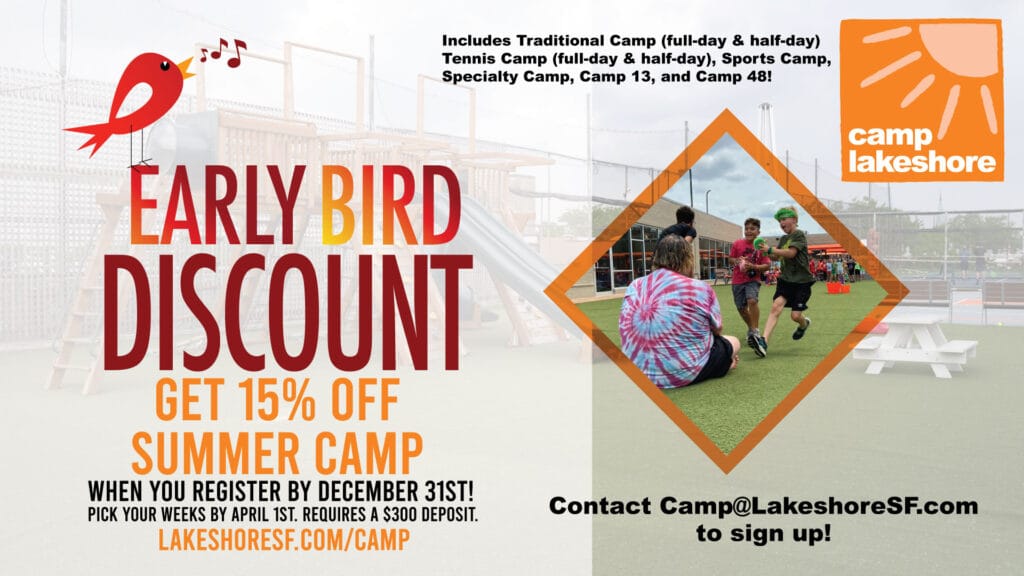 Camp Policies & Frequently Asked Questions
School Days Out Camp is Also Available!
School Days Out Camp is LSF's September – May camp option that keeps your kids active and engaged on days when school is not in session. We offer a full day of engaging and recreational programming that makes full use of our facility, neighborhood, and all-star staff. Our full-day program runs from 9:00am-3:00pm, with extended options from 7:30am to 6:00pm. The campers will swim in our pool, play sports and theater games, create art projects, visit the local parks, and much more! A field trip is included during most of our week-long sessions and lunch is provided by LSF. LSF also offers camp on days that school is closed due to weather cancellations or teacher strikes. (Now also offering a Tennis Camp over Winter Break!) Click here for more information or use the links below to register!
How to Register for Camp Lakeshore:
Need help registering or have questions?
You can reach us at Camp@LakeshoreSF.com or fill out this form and we'll get in touch!