Not only is swimming a great workout and an excellent way to develop motor skills and confidence – it's also fun! LSF is the perfect place for your kids to start dipping their toes in the water. The club maintains two swimming pools:
Our indoor large multi-lane pool is perfect for training and swimming laps.
Our smaller fourth-floor pool, which opens up onto the rooftop, is used for children's swim lessons and open family swimming during non-reserved times.
Our expert swim instructors teach everything from group classes to private and semi-private lessons. LSF also offers Stingrays, our own swim team that competes through USA Swimming.
Visit our Stingray's Team Unify Website
Find more information about our various swim programs, as well as pool schedules, on our programs and schedules webpage.
LINCOLN PARK CHILDREN'S SWIM LESSONS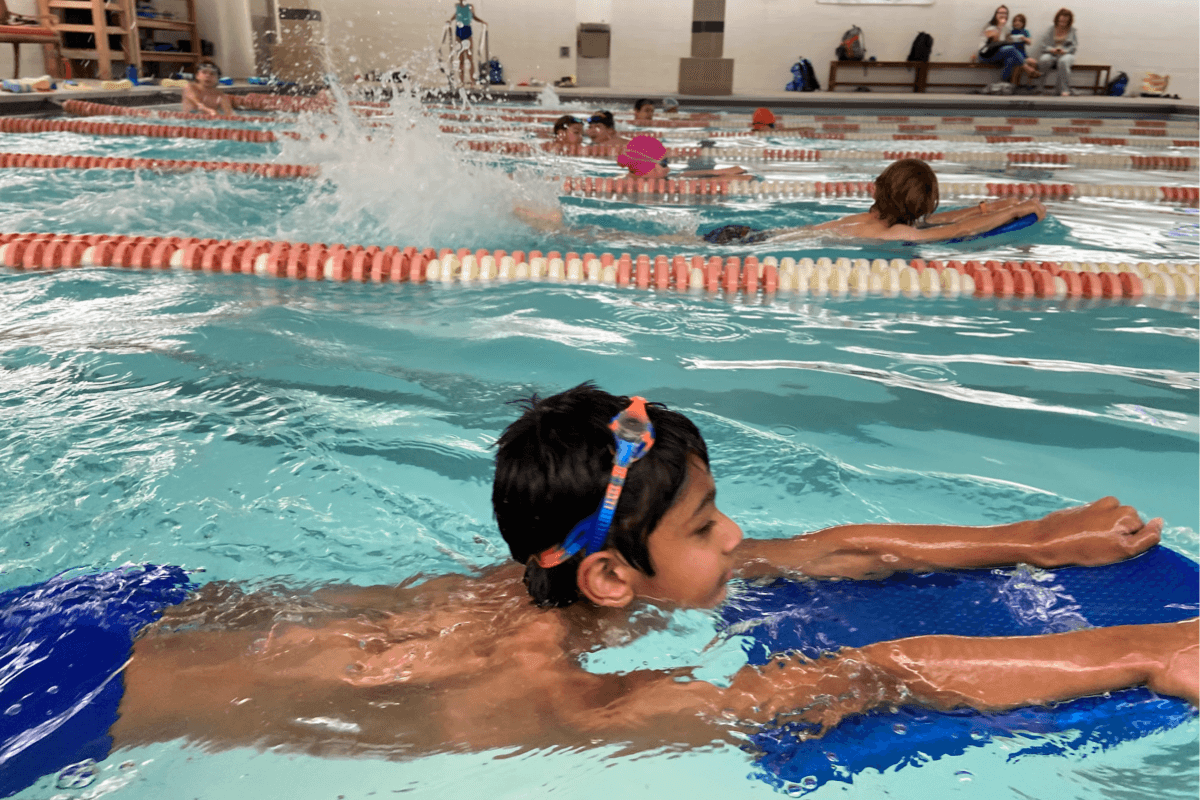 Swimming is a great activity to build confidence, self-esteem, and skills that will last a lifetime. We offer both a comprehensive lesson program for children 6 months to 14 years old and private lessons for children of all ages.
PRE-PAID PRIVATE SWIM LESSONS
Lessons can be geared toward swimmers who need more individualized attention or have trouble staying on task in group classes. Private lessons allow instructors to personalize goals and objectives specific to the swimmer.
Pre-Paid Privates are booked per session according to the 10-week session calendars (Fall, Winter I, Winter II, Spring, Summer) and will be billed upfront to guarantee your lesson spot for the entire session. When you book a Pre-Paid Private you are securing your day, time, and instructor for the entire session. Pre-Paid Private lessons are non-refundable and non-transferable. Due to high demand, we allow one make-up class per session to be scheduled with your instructor based on availability.
Discounted packages are available for purchase. 24-hour notice is required for all cancellations via email to LPAquatics@LakeshoreSF.com and the instructor.
GROUP SWIM CLASSES
Classes are offered at ideal times every day and are an excellent way to build life-long bonds and friendships while developing social etiquette. Group classes provide an environment where healthy competition between swimmers can encourage them to work harder to improve their swimming technique, endurance, and speed.
The Aquatics Department allows one make-up class per session with at least 48-hour notice to reschedule these classes, pending availability. Absences must be reported via email to LPAquatics@LakeshoreSF.com.
Parent & Child (6 months-3 years)
1:10 ratio
Designed for our youngest swimmers and a trusted adult, this class offers an opportunity to create a stronger sense of security between you, your child, and the water through songs and interactive coaching. Our instructors create a fun and comfortable environment that allows your child to quickly become acclimated to the water.
Learn to Swim (3 years-Kindergarten)
1:4 ratio
An entry-level class that is intended to provide swimmers with simple water familiarity and basic body control in the water, such as back and front floats, breathing, and feeling comfortable going underwater. Your swimmer will also receive an introduction to flutter kicking which is the basis for both Backstroke and Freestyle. This class serves as a basis for all future development in the water.
Learn to Swim 2 (3 years-Kindergarten)
1:4 ratio
This level is for your preschooler or kindergartener, who is comfortable in the water and feels confident going underwater but is too young for our Level classes. Swimmers will continue to work on back and front float, flip breathing, and kicking. They will be introduced to the arm movements for Freestyle and Backstroke. Swimmers who complete this class should be ready for Level 2 upon entering 1st grade.
Level 1 (Kindergarten-8th Grade)
1:6 ratio
In this first of three levels of swim classes, your swimmer will master putting their head underwater, strengthen flutter kicking, and be introduced to arm techniques for Freestyle and Backstroke. They will improve streamline position and body control and strengthen their ability to jump into the water and return to the wall independently.
Level 2 (Kindergarten-8th Grade)
1:6 ratio
In this second level of swim classes, your swimmer will further develop their skills by improving flutter kicking while being introduced to kicking in Breaststroke and Butterfly. Additionally, your swimmer will increase fluidity of Freestyle and Backstroke arm functions and learn side-breathing as well as improve the streamline and begin working on flip turns.
Level 3 (Kindergarten-8th Grade)
1:6 ratio
In the most advanced level of group classes, your swimmer will learn the remaining essentials in kicks and arm movements. Your swimmer will focus on mastering kicking in all four strokes, while improving Backstroke and Freestyle arm drills and begin to develop arm functions for Butterfly and Breaststroke. Lastly, we'll work on full flip turns and introduce your swimmer to diving. This final class helps to work on areas inside the strokes that will contribute to a swimmer's preparation for our Stingrays swim team.
*All swimmers under age 3 and older swimmers who are not potty trained are required to wear a reusable swim diaper.
**For sessions where there are holidays, rates will be pro-rated to the appropriate number of classes.