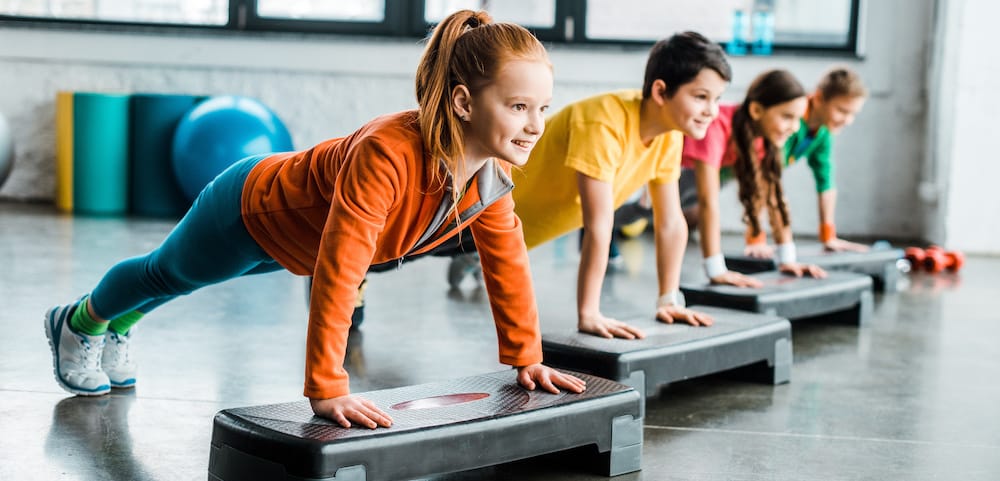 START YOUNG: LIVE LIFE FIT
LSF is the starting point for many children to learn about becoming and staying active, and developing healthy habits they'll carry with them throughout their lives. The benefits of our kids fitness programs can be great. Children who are physically active have fewer health problems.
Our youth activities encourage healthy competition, the value of participation, team building, individual development, positive self-image, a sense of fair play, and mutual respect for others as they learn to properly work out with a certified personal trainer, all while keeping it fun!
Youth Fitness Certification Program
Our Junior Fitness Certification program qualifies children 4th-8th grade in the use of cardio equipment, light free weights, and the running track.
In addition, children will learn basic information about cardiovascular, strength, and flexibility training. During the course, your child will learn the cardio floor rules, how to use the appropriate equipment, as well as basic gym etiquette. The course is taught in 60 minutes. Guidance on appropriate behavior and etiquette in these rooms will also be covered. Upon completion, the children may use the workout areas when accompanied and supervised by a parent.
Check out more information on our Programs & Schedules or email PT360@LakeshoreSF.com to get started.
Junior Personal Training
Our Youth Training Programs are designed to improve the physical development of youth at all levels. Ranging from the beginner to the elite athletes, we train kids 8-17 years old. The PT360 trainers will help give a child an edge with their expert fitness knowledge.
Email PT360@LakeshoreSF.com to learn more about kids fitness personal training options.
TeamX: Kid Fit (Group Training)
You will work on your speed, agility, deceleration, conditioning, and strength. Your coach will teach you exercises using your body weight, resistance bands, medicine balls, agility ladders, cones, and more. This class will take you through a workout that will challenge your body, but most importantly HAVE FUN while being active. Kid Fit will improve your sports performance, help get you moving, learn exercise, and stay active!
Classes are offered weekly. Members can sign up on the MyLSF app. Email TeamX@LakeshoreSF.com for more information.
LSF Academy Kids Yoga
BITTY YOGA (AGES 3-5)
Sign your mini yogi up for this weekly 30-minute Yoga Class that introduces simplified and accessible yoga poses, movements, and mindfulness activities through books, music, dance, and art. Your young one will love the short and simple flows shaped by various themes. Mats are provided, and the class is held in Yoga 2.
YOGA FOR KIDS (AGES 6-12)
Sign your yogi up for a weekly 45-minute Yoga Class. This introductory-level class will focus on fundamental yoga poses, movements, and breath. Themed classes, share circles, yoga-inspired games, partner poses, meditation, and art projects will be interwoven throughout to keep your young ones engaged while moving towards our overall goal of nervous system regulation. Mats are provided, and the class is held in Yoga 2.
Check out more information on our Programs & Schedules webpage or email KidEvents@LakeshoreSF.com.