We are excited to open our Curling Lanes this season! Located on the rooftop, adjacent to our Harvest winter location, we have two lanes and plenty of activities, plus it can also be rented for private events.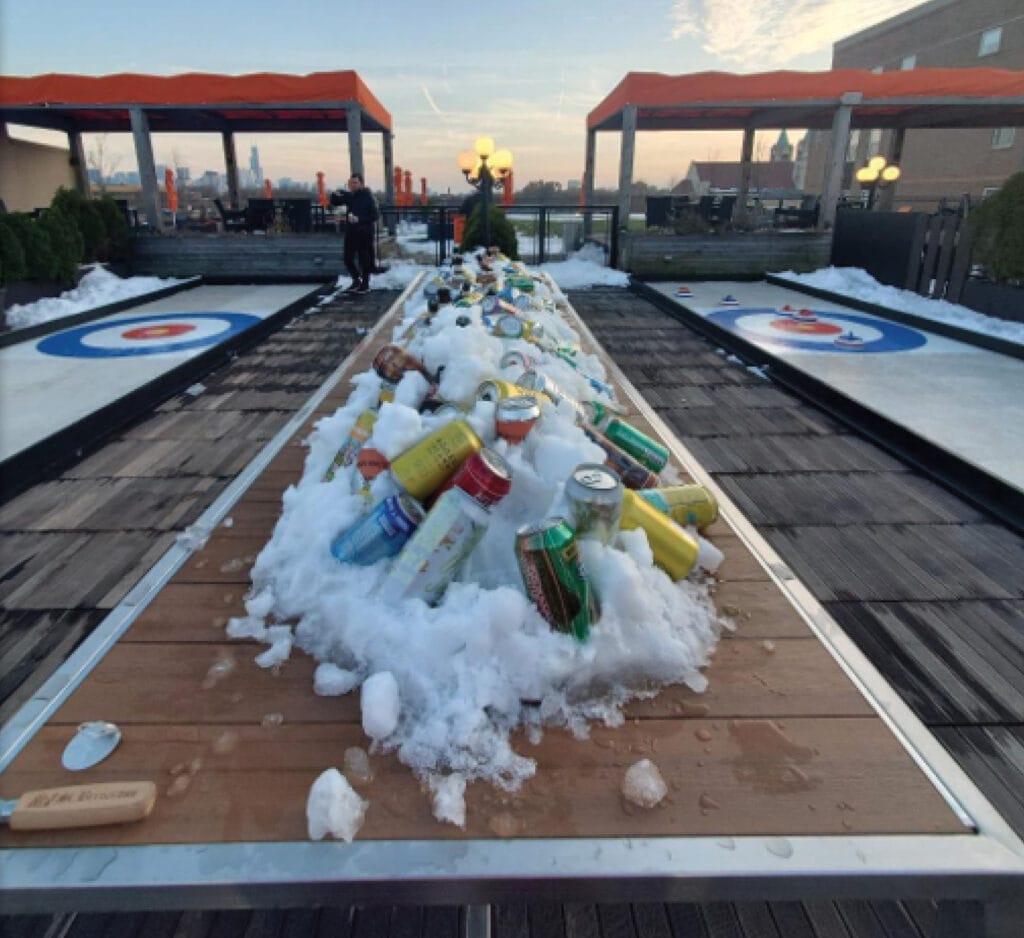 Curling is also open to non-members dining at Harvest.
Our lanes are synthetics ice with plastic "stones" so they are launched from one end to a target at the end of the lane. There are no sweepers that go down the lane with the stone and no curling brooms are used. All equipment is included. Each reservation is comfortable for up to 8 people.

Lane Rental: Available during Harvest Open Hours. Enjoy a 30 minute Curling Session! Please feel free to grab a table in our heated outdoor dining area or reserve a private dining dome to have a place to warm up!
Make a lane reservation online.
Saturdays & Sundays – Curling with the kids! Calling all families from 11am-3pm every weekend.
For more information or to book your private curling party, contact LPEvents@LakeshoreSF.com.
Lincoln Park Curling Frequently Asked Questions:
When is curling available?
Curling is available when Harvest is open for service. Harvest hours are Wednesday-Friday 4-9pm, Saturday 11am-10pm, and Sunday 11am-3pm.
How do I reserve a lane?
Curling reservations must be made through Tock. The cost is $30 per 30 minutes.
Can kids curl?
Yes, children can curl but if they are under the age of 16, they must be accompanied by an adult.
What shoes do we wear when curling?
The lanes are made of synthetic ice. We recommend tennis shoes or boots.
Can we order food and drink while curling?
Yes, the full menu is available while curling. Folks are encouraged to stay for dinner/lunch before or after their curling lane reservation.
Can we rent out both lanes for a party?
Absolutely! Please email LPEvents@LakeshoreSF.com to book your next event.
Is curling easy?
Yes, curling is great for everyone. We provide the rules and scoring cards for you when you check-in.
Where is curling located?
Curling is located at our 4th-floor restaurant. It is outdoors so please dress appropriately!
Can non-members make a curling reservation?
Yes! Non-members are welcome to dine and curl at Harvest.
Curling Guidelines & Scoring
Do not pick stones up by the handle or at all. Stones are only to be slid on the ice.
Set stones gently on ice and slide toward the target — do not toss or drop stones even from a short distance. Slide stones back when finished — do not pick up and carry them.
Each team has 4 stones of one color. The teams alternate sliding the stones toward the target.
Each game is played 10 rounds.
After each round (a round is when teams alternate throwing all 8 stones), the score is determined for that round. The team with the stone closest to the bullseye wins the round. That stone and any other stones that the winning team has inside of the rings each count as a point. See example: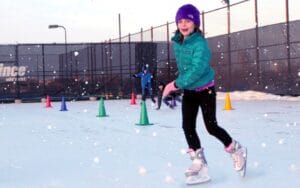 Ice skating will not be available this season. If you are interested in skating in the future, please email us at MemberServices@LakeshoreSF.com. We apologize for any inconvenience.
Come skate on our synthetic ice rink on our 4th-floor rooftop. The ice is available for complimentary open skating as well as a variety of great lessons, programs, special events, and birthday parties.
For more information, check out our programs and schedules webpage.